Acrylic Risers and Cubes for Staging Multiple Small Items or Merchandise
Create Impressive Merchandising Displays with Plastic Cubes and Risers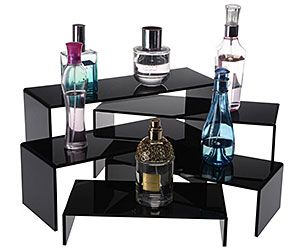 Need an affordable but effective way to highlight products? Acrylic risers and cubes give depth and elevation to the overall presentation. Displaying items without thought to their appearance or arrangement is a missed opportunity! By implementing acrylic risers and cubes into your merchandising strategy, shoppers will be more engaged and emotionally attentive. "Enticing the customer" is what it's all about and the applications are many. Create fabulous centerpieces inside your store, or push new arrivals ahead of the holiday shopping season. Present handmade wares and jewelry at craft or trade shows. Place inside curio cabinets like Detolf display cases for added focus and enhancement. Acrylic risers and cubes offer low-cost display solutions for retail goods and products!
What are two types of plastic nesting displays we have to offer?
Acrylic risers come in sets of graduated pieces. Ranging from three to seven small nesting "tables", the shelves are available in clear, frosted, and black plastic. The 3/16" and 1/4" thick acrylic material provides dependable support for all your items. Our U-shaped risers feature square or rectangular designs with straight or curved sides. The added benefit of nesting allows for unlimited display options. We suggest placing the stands at an angle to the person viewing. Or, mix and match angles with some risers placed over others as shown in the image at right.
Acrylic cubes are available in the same three plastic colors, including a mirrored-finish model. The material is a little thinner at 1/8" thick, but the box-type design offers excellent strength. All styles are sold in sets of three — the perfect number for a balanced and nuanced presentation. The platforms also feature hollow bottoms for convenient storage. The nesting design saves a lot of space during travel or when not in use!
Thanks to the large number of sizes, quantities, and styles, we are confident you will find the perfect risers and cubes for your particular application. Our customers love them, and never hesitate to tell us how happy they are with their purchase:
"After trial and error with couple of different companies to purchase risers, the ones we get here are the best. They've got structural integrity and just the right size combinations. I've ordered them in black and clear, and they're great every time we use them." — Dwanyetta, Aug. 24th, 2018
"I'm super impressed with these black acrylic stands. Very thick and sturdy, sleek and professional. I'm excited to use these at the trade show I'm going to next month." — Lindsay, Dec. 18th, 2017
"We use these pieces for our sushi displays, it really lets the food stand out!" — Katie, Aug. 22nd, 2017
In addition to these easy-to-use plastic countertop displays, acrylic jewelry stands make excellent go-with purchases! Offer handmade earrings, bracelets, and necklaces in clear or black plastic that coordinate beautifully with our risers and display cubes.