Posted on 20, December, 2017
Last Modified on 22, December, 2017
Shop Products from This Article
2017 was a banner year for product development at Displays2go. We spent most of our time actively listening to the wants and needs of our customers. Engaging so directly enabled us to better define our process to bring in a selection of fixtures, marketing tools and business displays that provide versatile solutions for those operating an enterprise. We've combined a list of brand new front runners that are flying off the shelves with some tried and true bestsellers in the hopes that maybe the solutions that have worked so well for others, might work for you too! Check out our round up of Displays2go's top 17 products from 2017!
1. Touch & Non-Touch Floor Standing Digital Signage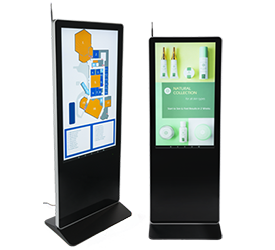 These sleek and slender digital marketing tools are by far the hottest item on this list. Designed for use in all sorts of cross-industry applications, these newbies are feature-packed, affordable and as easy to operate as a smartphone. It's no wonder they're flying out the door as quick as they come in!
2. Ambient Glow Display Case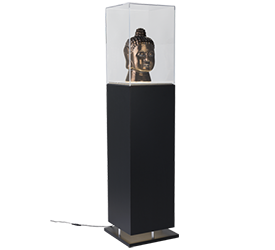 This sleeping beauty awakens a dimly lit room with a captivating soft glow. Products showcased in this modern display case are instantly enriched with enchanting charm and a sprig of mystery.
3. Device Charging Kiosks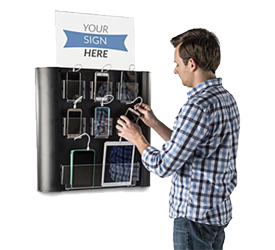 In a time where the Internet of Things is a thing it makes sense that shop and store owners want to keep all of those personal wireless devices powered up. Also popular in the trade show market, these charging stations are big right now. We see these commonly bought in wall mounting or floor standing variations with or without custom branded graphics.
4. The Minimalist's Sidewalk Sign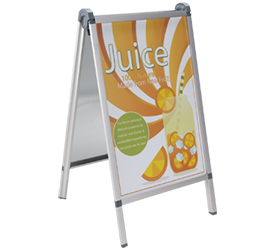 Thin, uncomplicated and super easy to bring in and out during a shift, it's a no-brainer why this modern-looking sandwich board made the list. Featuring a double-sided snap-frame design, it holds (2) 24" x 36" advertisements... and it does it with class.
5. Trash Can Liners?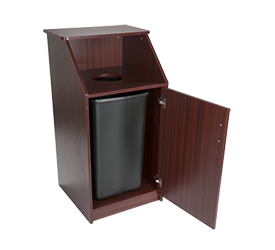 Yep. Trash can liners. These guys are actually at the VERY top of the list. We sold a metric ton of these this year*. Makes sense really... trash happens. It's a fact of life. These liners fit many commercial trash receptacles.
6. Snap Frames for Posters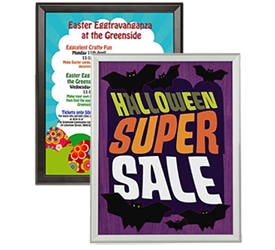 Year in and year out these snap frames top the list. They're easy to use, sturdy and simply do the trick. They're available in a bunch of sizes and colors too, so most of our customers buy a few sizes at a time.
7. Wheeled TV Stand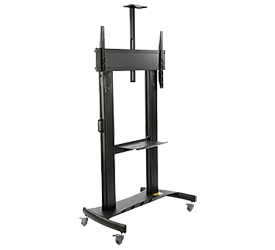 This heavy duty TV stand is awesome for classrooms and corporate offices. Why? Because it easily maneuvers from room to room on 4 locking casters and it can hold some pretty big screens. How's 60"-100" and up to 300lbs sound?
8. A Simply Functional Literature Holder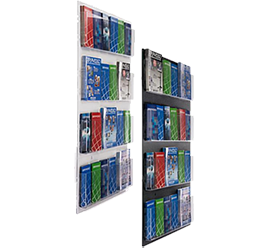 Another year-over-year bestseller, this wall mounting brochure and catalog holder fills a basic business need and it does it well. Adjustable pockets allow you to add varying sizes of marketing materials in your most prominent locations. Beloved most by hotels and banks, but applicable in so many settings. Also available in black.
9. Weighted Base Sidewalk Sign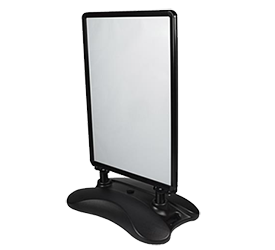 This peppy little sandwich board features a spring suspension on a weighted base with wheels. Sidewalk signs are subject to the weather sometimes. These weighted base versions are great for all year signage that you don't have to worry about taking inside when the forecast is a bit grim. But when you do... those wheels are a lifesaver!
10. Retractable Banners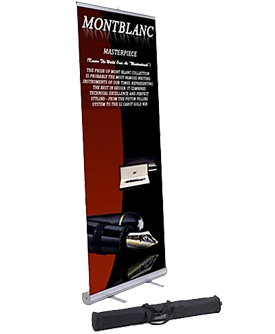 Marketing in large venues and in a sea of competitors is a real challenge for a business. These retractable banners feature vibrant and eye-catching graphics with superior quality printing and are easily transported to and from events with a handy carrying bag.
11. The Best Panoramic Picture Frame Ever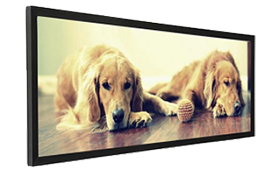 Maybe it's the sweet golden retriever pictured in this panoramic frame or maybe it's the great build and 40" x 13.5" common dimensions that make this product so popular. Either way, these picture holders are always a staple for us. They're well built, durable and affordable for all.
12. Magnetic Picture Frame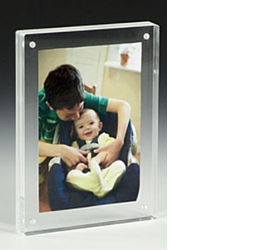 Great for business signage or for personal use, these simple 5x7 frames are in the popular group. The clear magnetic enclosure makes the image appear as if it's floating. There's just something magic about that. These frames look awesome on office desks.
13. Big Ole' Enclosed Cork Board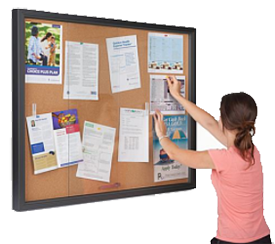 The application for this cork board transcends all industries. From restaurant owners, to university science labs, the need for a notice or message board is universal. This 48" x 36" cork board just happens to be rather nice looking, if we do say so ourselves. Our customers think so too!
14. Truss Style Podium
We've spotted our truss podium in use in tons of locations. A popular choice for churches but also a huge hit in schools and for presenting at large conventions. This lectern just looks cool, which is probably why it's such a popular presentation stand.
15. 10-Tier Literature Stand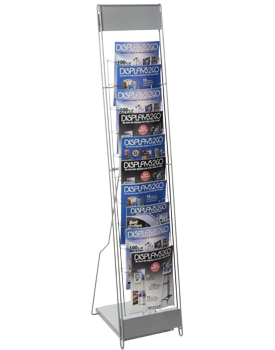 A floor standing literature stand is also an exceptionally helpful tool across industries. Commonly used for trade shows and in entryways or lobbies, but also found in schools, libraries and tons of other applications. This one is our most loved.
16. QueuePole Stanchions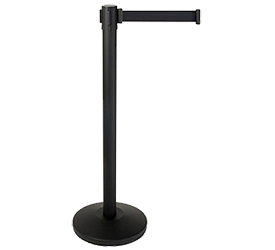 Crowd control is a big deal for all kinds of businesses. Banks, nightclubs, and churches commonly employ this 41.5" classic black stanchion to keep their areas organized and foot traffic flowing smoothly.
17. Acrylic Podium with Shelf
Last on our list is another podium for another day. This clear acrylic lectern appeals to the presenter with a more minimalist approach. With a simple design, a built-in shelf, and an easy to clean exterior, this presentation stand is a hit year over year.
*Note: We actually sold, a very literal, 2.3 metric tons of these this year, but who's counting?