Steel Truss Lecterns Provide Strength and Fortitude for Public Speakers
---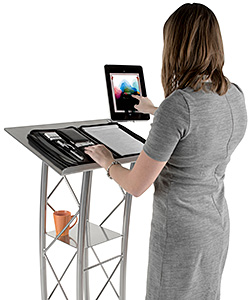 Heavy Duty Truss Lecterns for the Inspirational Speaker
When it comes to strong, well-built podiums, only one pulpit is up to the task. Truss lecterns live up to their name thanks to solid engineering and design. Inspired by structural architecture, these presentation stands embody the industrial style so popular in today's contemporary interiors. In its simplest form, the truss is a triangle — the most structurally sound geometric shape. Our truss lecterns take this bridge-building technique to heart in a series of straight and curved podiums. Everything you want in a preaching lectern is here; a solid, contemporary design at a very attractive price.
What are the main selling points of these metal podium stands?
Heavy Duty — just like the truss supporting a roof or extending a bridge across water, strength matters. Large metal tubing is welded together with thick steel rods into one solid structure. These lecterns are strong and will last a lifetime.
Non-Obstructing — big and bulky pulpits are remnants from the old days. Today's see-through models refrain from blocking sight lines. This can be an important consideration, especially if there are other things going on in the background (activity behind an altar, for example).
Iconic Design — boasting a modern style that simply looks great, these truss lecterns are very popular and fit in well with almost any interior decor.
In addition to their sleek styling at an affordable price, these podium stands are available in either black or silver finishes. Some models feature internal shelves or drink holders for storing refreshments. Generous reading ledges provide plenty of room for open books and/or notes. Another specialized accessory is the iPad mount which is compatible with most Apple® tablets. The clamp-on design allows for pinpoint placement on either side of the reading ledge. We highly recommend these handsome lecterns, easily the flagship model out of all our metal podium offerings. Our customers love them, and we would be remiss by not saying these have been best sellers for us for years!
See what our customers have been saying!
"These are very impressive stands. They are well made and very durable. We are excited to use them for multiple classes and settings for years to come." - Steve on June 18th, 2017.
"This was a great investment for our church. I love it." - Pastor Anthony Ratliff on May 6th, 2017.
"Great product, exactly what we needed to add that modern look to our podium events!!!" - JB Lighting Production on December 5th, 2017.