Trade Show Table Covers, Runners & Throws - Solid Color and Custom Printed Tablecloths

---
---
What Our Customers Are Saying
★ ★ ★ ★ ★
GREAT QUALITY
By Chris R.
Great quality, and arrived on time. Overall pleased with the process from start to finish.

SKU: 3S6CPDS
★ ★ ★ ★ ★
PERFECT COLOR!
By Robert G.
I was skeptical when I heard this entire fabric piece was printed with color, but it looks great! I also like the reinforced 'feet' corners.

SKU: STCZBCFP6A
★ ★ ★ ★ ★
EXCELLENT SERVICE, EXCELLENT QUALITY
By Lisa B.
Support team very helpful. I needed a premium quality and that's what I got. Print is beautiful and vibrant. Thank you!

SKU: RNSCPDS
---
Plain or Branded Trade Show Table Covers Available in Traditional, Fitted, & Convertible Styles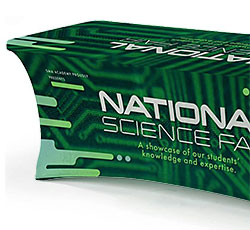 Create an attractive and professional display with trade show table covers. From inexperienced exhibitors to the more seasoned veterans, successful trade event planners know the importance of a well-designed exhibit booth. One of the most important pieces of a perfect trade show booth is its table treatments, including table runners, tablecloths, and other coverings. Custom printed tablecloths allow for passersby to visualize your brand and immerse themselves into your booth.
A great table cover can help improve a company's presentation at not only trade shows, but business conventions, hotel events, job fairs, storefronts, farmers' markets and much more. For vendors looking to promote brand awareness, custom tablecloths are a must.
Table space is prime real estate in any trade show or event. It's where vendors and exhibitors connect with potential customers the most. A well-dressed table is the perfect place to display giveaway merchandise, printed materials, samples, handouts, business cards, and other promotional items. Don't waste that premium quality advertising space with a boring table or a lackluster tablecloth.
From trade show exhibits to other events, Displays2go carries a huge selection of table covers for any setting. With hundreds of styles, colors, and sizes, there's a tablecloth for every unique need and use.
Types of Trade Show and Event Table Covers
Plain coverings are a solid economic choice for those looking throw together an easy table presentation on the cheap. They cover unsightly tables and can help create a cohesive look to your overall display.
Custom Printed styles are one of the most effective and powerful ways to promote your business at any event. Available in single, multi, and full color options. Print graphics or your company's logo to advertise your brand. Branded tablecloths can even make exhibit booths more inviting and attract customers.
Convertible table throws are great for vendors who need flexibility in their displays.
Stretch Fabric covers are fitted, eliminating wrinkles and resulting in a smooth, modern look that screams professionalism.
4-Sided and 3-Sided - Full coverage tablecloths easily hide equipment stored underneath your table from all sides. Three-sided covers, however, offer open backs that provide room for rear seating and/or easy access to supplies for vendors.
No matter what your business is or how big of a budget you have, Displays2go offers a greater choice of options for your trade show table cover needs. From branded tablecloths to eye-catching table runners, we carry a large inventory of coverings to help businesses express themselves professionally.