CD Display Rack Holds DVDs, Books, and Other Media
---
CD Display Rack Holds More Than Just Audio and Video Media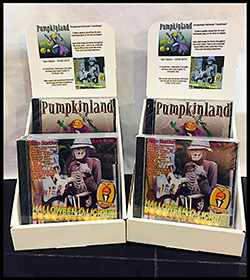 Are you a music store owner or a budding author looking to promote your merchandise? If so, we're here to help you! A CD display rack has a lot more in common with those two industries than you may think. These floor and countertop stands are for displaying compact discs and DVDs yet we have found they also have many other applications. Our customers have used CD display racks at conventions, book signings, live music venues, and various other locations. Many of the stands offered here are perfect for traveling around the country attending trade shows and craft fairs. Portability is a big selling point for those needing easy setups, take downs, and pack-ups. We stock a diverse CD display rack selection ranging from a single tabletop holder to floor models boasting 144 pockets.
The store displays are available in two types: floor-standing or countertop. The majority of the floor stands for sale in this category are wire-frame models which spin for easy customer browsing. These offer the largest number of individual pockets with the capacity to store lots of CDs, DVDs, cards, or books. If your store sells a lot of digital media, but doesn't have the space for aisle-wide shelving, these floor fixtures would be the logical choice. Looking for a budget-friendly display rack? Be sure to check out our economy cardboard collection. Our cardboard collection is available in a handful of color choices and ship flat to save you money.
Countertop holders are ideal for strategic placement at POS locations as they provide a more focused selection. These smaller offerings are ideal for new releases, seasonal favorites, or discounted items. The countertop model is the ideal holder for an impulse sale. Outside of the register stand these models are often placed on display tables to pique the interest of shoppers. Materials range from affordable cardboard, clear acrylic plastic, and warm wood. Our most popular countertop display racks are the slanted wire-frame models. The slanted models provide a tiered appearance allowing more product to be shown.
Where have our customers used these media display fixtures?
CD and DVD racks are standard issue in music and department stores, where they like to advertise the top 10 albums or showcase local musical talent. The holders also do a good job of moving stock, whether discounted for a quick sale or pushing to make room for new arrivals.
Touring bands and other live acts like to sell their music, posters, and T-shirts in the front of the club during shows. Having a portable display to hold and organize current and past CD releases helps make the transactions easier.
Authors and actors at large scale events like Comic-Cons, gaming expos, and cosplay conventions often use these racks on their meet-and-greet tables. Likewise designers, illustrators, and writers also need countertop literature stands to display their books, movies and music.
Professional authors visiting book stores in person to promote a new work or novel set up tables to meet their readers and offer book signings. Instead of stacking books flat on the table, the writers prefer to showcase their books with a tiered stand so people can see them.
Not forgetting craft fairs, trunk shows, and food festivals, the added value a retail media display can offer is obvious. Pairing their efficient use of space with attractively low prices makes them a win for all concerned!