Multimedia Lecterns & Cabinets for Professional Presentations
---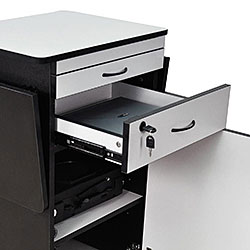 Multimedia Lecterns Provide Convenient Storage and Work Space for Schools and Universities
Nowadays, educators use all sorts of digital devices to augment and/or manage their presentations. Multimedia lecterns cater to today's technology and accomplish this all within a compact design. Suitable for a wide range of applications, these podiums and laptop stands boast roomy cabinets, pullout drawers, and optional shelving. Our multimedia lecterns are also mobile — allowing easy portability from one side of the stage to the other or from room to room. College professors, school teachers, and lecturers appreciate the convenience this presentation furniture offers. The old-fashioned pulpit with reading light feels light years away when compared to these modern multimedia lecterns!
How can a presentation podium enhance your speech or lecture?
Multimedia lecterns are designed to accommodate a multitude of digital devices. Laptops, tablets, projectors, media players — the list goes on and on. Cord management is controlled by holes throughout the cabinets, so power cords can get where they need to go. Perhaps most importantly, each cart achieves this inside a small footprint.
Storage space is paramount. In addition to the top work surface, some models feature pull-out keyboard trays. Optional side shelves swing up when needed. Internal shelving provides plenty of room for supplies or bulkier items like media players and computer towers. If you plan to store your electronics and devices inside the unit, lockable cabinet doors provide the necessary security.
It can't be called a cart if it doesn't have wheels. Easily rolled across the room or down the hall, our lecterns are entirely mobile. Heavy-duty casters provide the mobility while being able to handle the added weight of a lot of supplies and accessories.
We offer podiums in a number of plastic laminate finishes. Choose monochromatic white or black for schools and offices. Or, opt for a faux-wood like mahogany or cherry. The warmth a wood-like appearance adds to interiors makes them excellent choices for more upscale environments.
Presentation workstations are popular fixtures for many sectors. Thanks to their ability to accommodate various electronic devices, the stands offer many advantages to the user. Educational institutions like colleges and universities are some of our best customers. Businesses use them in conference and training rooms. Hospitality receptions, awards ceremonies, and trade show expos are just some of the many and varied applications using this technical furniture. Podiums with integrated sound systems project the voice and add another dimension to the digital presentation. Displays2go's multimedia cart selection offers excellent value at a great price!