Daycare Furniture - Soft Flooring, Rolling Cubbies, Easels, and Tables
---

Toddler Size Daycare Furnishings Offer Convenience for Kids, Security for Adults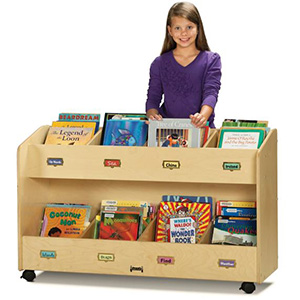 Looking for commercial-grade child-size fixtures? Finding top quality daycare furniture is easy when you shop Displays2go's collection of play, study, learning, and library furnishings and accessories. Designed for child care centers, kindergarten classrooms, and preschool classes as well as homeschool environments and playrooms, our selection includes a variety of single and modular fixtures. Daycare furniture is a wide term that covers everything from school desks to kid-size easels and storage for everything from books to electronic tablets. Child-sized fixtures need to be sturdy and well put-together, as well as simple and attractive. Safety features such as rounded corners and hidden casters help teachers and aides keep kids safe during study, rest, or play. Most daycare furniture, including child size storage fixtures and accessories, is made of durable, ecologically conscious materials and features finishes designed to limit emissions and ensure a comfortable, safe environment.
What are the most popular types of child-sized classroom fixtures?
Library or book cart daycare furniture sits on sturdy caster wheels for ease of movement. Wooden construction and natural finishes complement any environment, while rounded corners and low-emission materials help ensure safety around these multi-shelf stands.
Child size tables are perfect furniture for collaborative learning as well as snack time or studying. Traditional rectangular training-style tabletops can be used as desktops or for cafeteria-style dining. Round kids tables are a great choice for group activities and play, and come in a variety of styles to match traditional or modern decor choices.
Comfy, squishy flooring helps protect classroom floors as well as offering modular space for naps and group playtime. Interlocking squares adapt easily to any space needs, as well as being easy to stow away when not in use.
Child-size art easels are designed for portability as well as stability during use. Countertop styles are perfect for playtime and art classes in shared classrooms as well as child care centers. Many freestanding kid-size easels offer integrated storage for pencils, pens, and other art supplies, helping keep shared spaces organized and neat.
Today's high-tech learning environments incorporate electronic equipment as well as "old school" accessories. Safe, secure storage fixtures help protect tablets, e-readers, and other child-friendly learning devices while they are being recharged.
Many child care centers and educational facilities have to deal with limited floor and wall space. Modular furniture and multipurpose storage fixtures help schools and kindergartens design efficient toddler classrooms. Neutral, natural finish fixtures allow kid-pleasing bold colors to stand out without overpowering the room. Brightly colored accessories such as soft interlocking floor tiles help tie the room together while providing a safe, learning environment.
Many of our classroom fixtures are specifically designed to minimize environmental concerns. Teachers and parents know that safety is paramount where growing children are concerned. In addition to protective design elements such as rounded corners and hidden wheels, many of our classroom fixtures are marked with a "Greenguard" certification badge. This symbol indicates products that have been certified as meeting the highest standards for air quality and emissions.