Literature Organizers for Paper & Document Filing & Storage
---
Paper Organizers & Mail Sorters - Wooden & Metal Literature Racks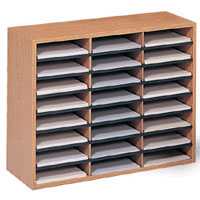 These literature organizers are exceptional sorting tools for office use. Each paper storage system features multiple compartments for easy filing. The paper organizers, sometimes called mail sorter boxes, are available in both hanging and desktop configurations. The wholesale desk accessories are very popular among office workers and other business professionals. In fact, mailroom clerks frequently purchase the mail sorters to simplify interoffice mailing. What other tasks do the desk paper organizers make easier? Educators, especially teachers with younger students, often set up a mail sorter to collect and hand out assignments. Usually, each child has a file that is labeled with a name tag. This way, instructors can make grading and organizing papers very straightforward. Storage mail sorters with hanging or wall mount designs are great for other locations within educational institutions. Faculty lounges are an excellent place to hang a multi-compartment file.
What materials are used to manufacture the mail sorter boxes?
Wood paper organizers are some of the most popular designs among our customers. Many professional locations and home offices opt for the wooden filing boxes because they offer a traditional almost rustic appeal. The warm touch is very inviting and can be a nice escape from overly modern sorters.
Some of the other literature organizers are made out of metal, which is great for faster paced environments. Lots of offices have a high volume of mail, including letters and magazines, that needs to be distributed to staff members. These metal mail sorters are ideal for these types of applications because of their exceptional durability. Of course, style is never sacrificed for the sake of improved functionality, as all of the metal units feature an attractive black or tan finish.
Our online catalog is home to many literature storage solutions, including items other than these paper filing boxes. Hanging magazine racks, wall mounted file holers, and floor standing brochure displays can also serve many of the same purposes as these trays. There are plastic desk accessories with clear designs as well as a number of other high quality filing systems, so take a look around at the whole inventory to find the best organizer for your home or office.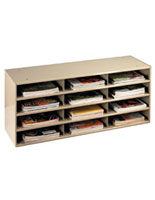 Paper trays are used for more than just sorting mail and homework assignments. Some of the mail sorters are set up in learning environments to keep classroom materials neat and orderly. Construction paper and other craft supplies are easily stored in the compartments, so students and staff can readily access them. Each tray is wide enough for standard magazines, catalogs, and letterhead reading materials. As a result, the uses and presentation possibilities are endless. Add these desk accessories to your home office to organize bills and other important documents. Paper storage has never been simpler!
Why buy these desk accessories from Displays2Go?
Durability is perhaps the foremost reason customers choose these literature racks. Not only are high quality materials used for the construction, but also each is structurally sound for long-term use. Both metal and wood are great for longevity when it comes to the desk and wall mount racks.
Affordability is yet another advantage to shopping our online catalog. Our prices are already extremely competitive, but we offer wholesale pricing for bulk orders to soften the blow on budgets. This way, larger companies and corporations can stretch their dollars while ensuring the right storage equipment is purchased.
Fast shipping also sets Displays2Go apart from other online suppliers. In fact, most in-stock desk accessories, like these paper sorters, ship out the same day as the order when it is placed before 3PM EST, Monday through Friday. Be sure to read the details on the product page for more information about same-day shipment.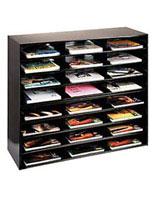 One of the best ways to increase productivity in an office is to implement the right storage supplies and organization tools. Any business will have an neat, orderly appearance with literature displays and racks. In fact, our company also provides a number of other organizers for reading materials. Some of the filing displays include brochure holders. These leaflet pockets and pamphlet racks are perfect for organizing a whole set of tri-fold publications. All the reading materials are place in one centralized area, so viewers can quickly and easily make their selections. There are also magazine holders as well as wall racks for catalogs. There are even business card holders in both single and multi-pocket designs for sale online. Shop the entire collection for a display that has enough room for all of your literature. These versatile desk accessories can be placed or mounted just about anywhere, so the highest impact is achieved every time.
There are all kinds of organizer accessories for offices for sale in our online catalog. Shop the finest literature displays today and save with low, affordable prices. We are a leading supplier and manufacturer of thousands of point of purchase products. Customers can outfit their entire business or conference center with unique and effective display solutions. Browse everything from pulpits and podiums to sign holders and poster frames. The collection grows all the time, so be sure to stop by the site often for the latest products. Also, check back frequently for limited promotions, including sales, clearance items, and closeouts. As always, we are here to help with any questions you may have. Get in touch with one of our talented representatives via email, online chat, or the phone. Visit the contact us page for more details.