Open Closed Signs | Flashing Business and Store Displays
---
Flashing Window Signs Feature Low-Cost LED Illumination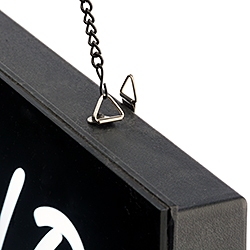 Why pay more for a real neon sign when a cost-effective alternative is just as bright? These LED open closed signs are standards of the industry seen in almost every strip mall, retail store, or business. While their application may seem redundant this is anything but the case. LED open closed signs have become so common people have been conditioned to see them, and notice when they don't. Designed to hang on the inside of store front windows, the combination of bright colors and/or flashing effects are what gets these types of signage noticed. We sell three types of flashing window displays: open signs, open/closed signs, and others with a variety of messages tailor suited to service-specific businesses. Since all these lighted open closed signs utilize LED illumination, the cost to leave them on during the entire business day is negligible.
What sorts of businesses use these flashing window displays?
Restaurant and Food Service Establishments - Not only are the standard "OPEN" signs used by just about everyone, more specific messages like "PIZZA", "FROZEN YOGURT", and "BEER & WINE" advertise items potential patrons may not know you offer.
Convenience Stores & Gas Stations - Many quick stops have ATMs, and what better way to advertise this than with a brightly lit LED window display.
Cafes and Coffee Shops - Tell pedestrians you offer free "WI-FI". The angle here is getting people inside your door. Offering this service usually extends into more sales.
The "OPEN" signs comprise more than 50% of the models offered here. Available styles come in landscape or portrait format with hard plastic faces that emulate the look of neon, or more economic choices with open faces and individual bulbs. Some styles feature illumination that stays on all the time while others come with flashing effects and animated displays. We sell a couple of interesting variations to the OPEN designs, namely the horizontal/vertical model that lets you choose the display format. Each letter rotates to change the orientation. Another specialty is the inclusion of a write-on marker board. Not only does the display tell customers you are open with bright LEDs, it also illuminates the writing surface for extra advertising possibilities.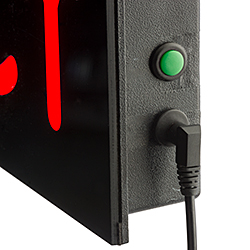 The "OPEN/CLOSED" signs have the distinction of having it both ways, whether you "are" or you "aren't"...it just comes down to personal preference. Retailers concerned about leaving this signage on at all times and its effect on their electric bill need not be worried. The LEDs are so cost-effective we're talking pennies in the long run. One style features business hour listings that tell your customers your working hours for the week. This model is especially useful for restaurant or store owners that keep more unorthodox hours.
"ASSORTED" message signs offer targets tailored to specific businesses. Tell patrons you offer services like ATMs, wi-fi, home delivery, or a number of food-related items to grab their attention. These models also happen to be the most affordable LED displays of all.
Static illumination, meaning the light stays on without blinking, is the more traditional choice. However if you want maximum visual impact, then choosing signage with flashing animated effects is the way to go. It's been proven that "movement" draws the eye, so no matter where you install the sign it will be seen. In the case of gas stations and convenience stores, they typically plaster every inch of their front windows with adverts and signage of all kinds. An LED sign with animated letters or flashing bulbs would help to make it stand out in the sea of advertising. All signs come with a power cord that's attached to the side of each unit, along with an on/off switch or a button that allows you to scroll through the available flashing light effects (only on applicable models). They also come with hanging chain for a quick and easy installation.
Displays2go is the largest stock display manufacturer in the country. Our inventory has over 9000 products to choose from and we are constantly on the search for new and exciting merchandising displays and fixtures. In business since 1974, we are committed to offering our products at the best prices for our customers. Come see what we have to offer, shop with us today!