Solid Wood Lecterns for that Stately, Traditional Look
---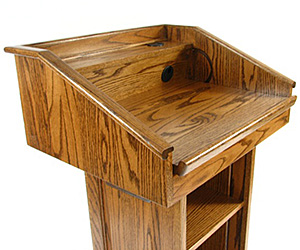 Handcrafted Lecterns Reveal the Beauty of Real Wood
Out of all the types of podiums available, one particular style distinguishes itself from all others. Solid wood lecterns not only offer the warmth of real hardwood but also add gravitas to the proceedings. From presidential press rooms to churches of all denominations, these handsome pulpits enhance the role of the speaker. By epitomizing austerity and formality, solid wood lecterns are the go-to choice for many of our respected customers. Displays2go sells top-quality wooden podiums perfectly suited for both religious or secular applications.
What are the main selling points of these traditional pulpits?
Solid wood lecterns are available in two styles: deluxe hardwood or standard veneer.
Podiums manufactured from solid hardwood are unmistakable. Handcrafted with beautiful raised panels and moldings, these models are top-of-the-line speaking stands.
Choose lecterns made from oak, cherry, or walnut hardwood. Each podium comes with an attractive stain to enhance the grain and sealed with a clear coat finish.
Two concealed wheels located in the rear provide easy tip-n-roll mobility.
The reading ledge is adjustable and the internal shelf is removable for accommodating a variety of refreshments or supplies.
The top section is also removable for use as a tabletop pulpit.
Standard veneer models feature simpler designs and are half the cost of the upscale, solid wood line.
These come with an internal shelf but without wheels for transporting.
The wood veneer styles come in three shades of stained oak, with an optional cross decoration displayed in front.
Traditional lecterns symbolize much of what we associate with formal, public ceremonies. While they cost more than lower-priced podiums with plastic laminates, their relevance should not be underestimated. A high-quality pulpit matters much more than your typical dais or rostrum. It becomes a symbolic part of the ceremony or broadcast when seen in the eyes of the congregation or audience.