Rectangular Trade Show Table Cloths in an Array of Colors
---
Polyester Table Cloths for Trade Shows & Events in 6' and 8' Lengths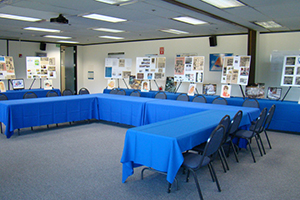 What's the quickest way to transform an unsightly exhibition space on short notice? Set up an expo booth using our rectangular trade show table cloths. Our commercial throws are available in an array of colors, sizes, and designs. These rectangular trade show table cloths come in deluxe and economy styles. We offer wholesale pricing, so save more when you buy in bulk! Showcase products and services with rectangular trade show table cloths in polyester. Career counselors use polyester overlays to disguise old, beat-up furniture at school fairs. Event planners keep rectangular trade show table cloths on hand for special events. Hospitality personnel appreciate having so many colors and configurations to choose from.
Put on a banquet or buffet at a hotel or convention halls by dressing up the décor with bright colored cloths. Sales people take commercial throws on the road to create instant presentation space. Some of the furniture at a conference or convention can look shabby! Need to disguise banged up furniture in a snap? Our covers create a professional backdrop for sales presentations and product demonstrations. Set up a pleasing greeting space with one or more of our polyester throws. Our drapes come in 6 ft. or 8 ft. lengths to suit every budget and tabletop size. Your booth space looks finished when you add top quality throws to your marketing to-do list.
What draping styles do these commercial coverlets come in?
Full coverage deluxe throws are four-sided, for elegant, upscale presentations. Hide furniture nicks and bent table legs with this polyester drape. Keep overstock and cardboard boxes out of sight with these full-length drapes.
Three-sided economy throws have one short side that expands seating area for staff. Event workers have easy access to supplies stored underneath. These functional covers use less material, which reduces the price.
Fitted, full coverage throws never need adjusting. There are no puckers or gaps with this draping style. Use this coverlet design at cocktail parties, business mixers, and weddings. Fabric stays put, no matter how many visitors attend your event.
Short cover styles are great for school camp fairs, while longer styles are excellent for formal events like a speaker lectures. It's great to have options when you consider how different one event is from another.
Planning your first booth? Our featured table coverings come in a variety of bright and subdued colors to blend with any décor. Set a classic tone at weddings and graduations with neutrals like black, white, and ivory. Need to bring it up a notch to create a little excitement? Bright red attracts attention to your sales exhibit area on a busy convention hall floor. For a more subtle presentation, choose burgundy. Classic hunter green is perfect for service businesses like banks and mortgage companies. These polyester covers are plain, without custom imprinting. Branded signs, banners, and display fixtures boost brand recognition, so use them liberally! Our polyester table cloths are durable to withstand frequent use. Expect quality, whether you're buying from our deluxe or economy line. Available in 6' (72") and 8' (96") lengths, our well made throws hide a myriad of flaws on presentation tabletops. Transform furniture in minutes using plain coverlets in an array of colors and designs.
What are the benefits of polyester construction?
Thicker than competitor fabric, our 6 ft. and 8 ft. throws have a wider hem and reinforced corners.
We test our flame retardant fabric in an independent laboratory to ensure safety.
Machine washable and dryable, these throws with a subtle sheen stay wrinkle-free.
Buy our 6 ft. and 8 ft. table top covers in every color so you'll always be ready, no matter what event crops up. Transform your booth with plain polyester tabletop drapes - without spending a fortune! Displays2go.com has the appropriate tabletop drapes for your event specifications. Mix and match our vibrant overlays with runners from this website to enhance the décor. Need to boost brand recognition in a more obvious way? Consult this website to learn about custom printing options. Expect our same lightening quick shipping and expert customer service. We know business events sneak up on people, so we ship most of our merchandise within 48 hours!