Retractable Pull Up Banner Stands for Custom Printed Advertisements for Trade Shows
Shop Retractable Pull Up Banners By Base Line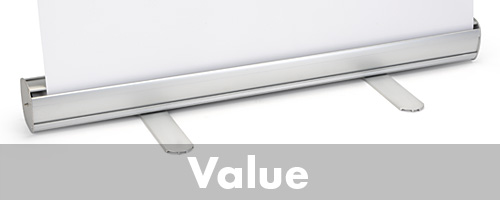 Economical Pull Up Banners
Basic lightweight and narrow base options with adhesive attachment and carrying bags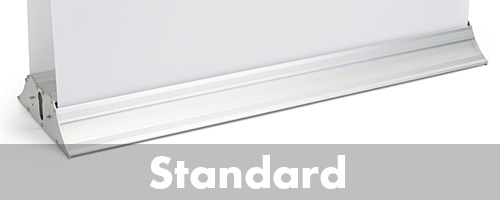 Mid-Range Pull Up Banners
Singe and double-sided models with increased stability, more size options, and padded cases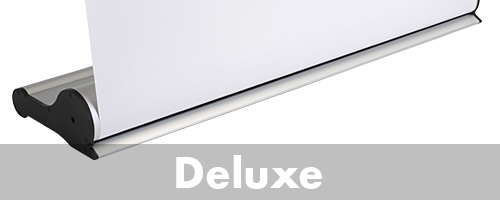 Premium Pull Up Banners
Top quality stands that support oversized graphics, connectable stands for creating walls, replaceable cartridges, and padded cases
---
Shop Retractable Pull Up Banners by Size & Base Width
---
Top Selling Retractable Stands with Custom Printed Banners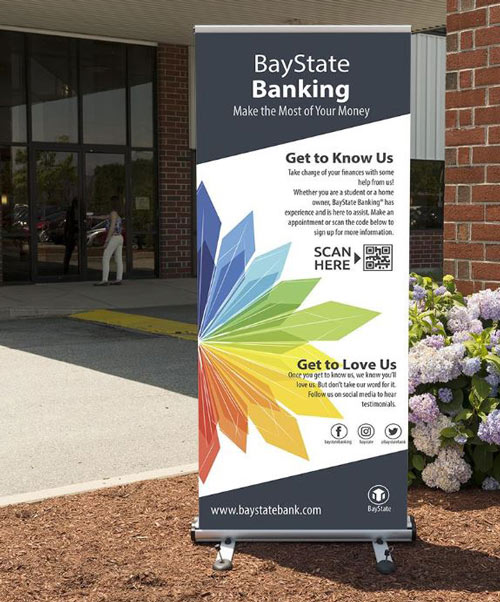 Outdoor Retractable Banner Stands
Vibrant, full color graphics that make an impact with potential customers in open air spaces.
Shop Now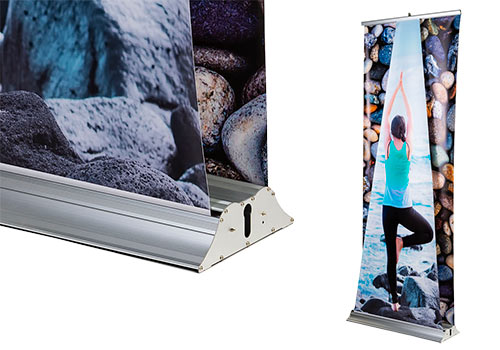 3-Dimensional Retractable Banners
Dual-layer banner stands create a stunning visual effect.
Shop Now
Buying New Graphics for Your Banner Stand?
---
Retractable Pull Up Banner Stands with Custom Graphics for Increased Trade Show Visibility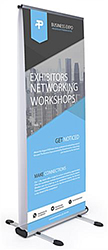 Looking to make a lasting impression and promote your business effectively during trade shows? Look no further than our highly portable and impactful retractable pull-up banner stands. With custom printing options, these banner stands can be set up and taken down in minutes, saving you valuable time between events. Our retractable pop-up banner stands offer excellent value for your investment, whether you're seeking high-end custom advertisements or personalized economy signage. These portable convention signs feature neutral base colors that blend seamlessly with any decor and come in single or double-sided options for vinyl or fabric custom printed panels. For added impact, some models even include overhead illumination to highlight your brand messaging. With the convenience of carrying bags, transporting these banner stands between events is a breeze. Get noticed and make a statement at trade shows with our vertical pull up banner stands.
What are some functional elements that set our floor standing event signage apart?
Some of our retractable banner stands feature a hook & loop design that enables add-on attachments such as tri-fold dispensers and sign frames. This creates a more well-rounded display equipped with all the tools you need to support your business.
Pop-up banner displays with vinyl advertising are easy to maintain and designed to last through years of use thanks to an included protective carrying case. These custom retractable banner vinyls are a durable option that maintain their rich coloration thanks to our advanced digital printing process.
Our promotional sign's panel configurations come in one- or two-sided styles with snap-open rail and tension control. Some models come with patented magnetic connectors that allow you to attach several panels together to create full-scale backdrops for your exhibits.
Pop up banner sign'ssimplistic base styles come in truss, pedestal or cross style in anodized silver or black finish for a neutral appearance that works with any décor.
Event signage with custom artwork is digitally printed in color, and created by the customer by downloading a template and submitting a design during or after checkout. Many pull up banner stands have replaceable graphic options, making it possible to quick-swap artwork between events or replace dated promotions.
Trade show posters with illumination is an effective and inexpensive way to make signage more visible in busy retail showrooms and convention centers. This is especially useful in low-light settings such as museums and helps your booth stand out from neighboring setups.
Price point - some economy models include pre-installed graphics that retract into the base, while more upscale models can be updated with new replacement cartridges for designated events.
Are you ready to make a big impression at trade shows? Look no further than our versatile and budget-friendly retractable banner stands. These freestanding displays seamlessly integrate with any trade show exhibit, and their quick setup and teardown time will save you valuable minutes. By using floor-mounted poster holders, you can effectively showcase your brand with custom messaging and personalized artwork, ensuring maximum visibility on the showroom floor. But our vertical pull up banners aren't limited to trade shows alone! Many of our satisfied customers also utilize them in department stores, shopping malls, and boutiques to promote products, events, and seasonal sales. Whether you're a frequent traveler, a savvy marketer, or a college fair presenter, our floor-standing and tabletop signs provide a convenient solution. The true beauty of these pull up posters lies in their clever design. The custom printed graphic is securely housed inside a sturdy base, taking up minimal space when not in use, yet commanding attention when rolled out and expanded. Your artwork remains protected during transit, significantly extending the lifespan of your signage. Don't miss out on the opportunity to invest in our retractable banner stands and leave a lasting impact at trade shows and beyond. Your brand deserves to shine!
Frequently Asked Questions:
Q: How much do pull up trade show banner stands cost?

A: Economy collapsible posters with bases might range from $150-$300 and are a great choice for exhibitors just starting out or a trade show veteran who just needs an affordable custom sign for an event. Upscale models range from $400-$800 and beyond depending on the additional features included and overall dimensions.



Q: What is the standard size of a retractable banner stand?

A: While our most popular roll up posters with base measure 34" x 79", we carry a large variety of options to suit your needs. Our full line ranges between 34" to 60" wide and 79" to 120" tall with many products featuring adjustable heights.



Q: How do you clean a roll up banner stand?

A: Clean the printed sign with warm water and a mild detergent or hand soap. Avoid placing vinyl banners in direct sunlight, or in areas of extreme heat such as a car trunk, or storage facility over prolonged periods. Store retractable exhibition stands in a cool dry place when not in use.
Portable roll up stands with vinyl or fabric panels are an effective marketing tool on college campuses, in malls, hotels, airports, convention halls, and any other industry where signage is needed to be effective and on-the-spot. We pride ourselves with created an exceptionally short lead time from the inception to creation of your personalized pop up sign. Most of our posters are printed and shipped in less than one week making Displays2go an ideal solution for implementing additional advertisements (or catching up on last minute ones) in the middle of the busy trade show season. Displays2go is a one-stop-shop for everything you need inside and outside of your trade show booth. We provide full lines of exhibit backdrops, portable tents, carrying cases, poster stands, and all-inclusive bundles to get you and your business ready for the big show. What's more, we intend to grow with you, and offer a range of pricing and style options to meet your needs from beginner to expert.