Slatwall Towers | Three-Sided Store Display Fixtures
---
Rotating Kiosks Effectively Present Merchandise on All Three Sides of the Display
Looking for a way to showcase products effectively to customers? Slatwall towers are the best choice for making the most of priceless floor space while adverting your merchandise, services or business. The unique shape of these rotating gondola displays inventory to customers from a variety of angles. Slatwall towers are versatile fixtures - ones that can be simultaneously used to present merchandise and promote your business at the same time.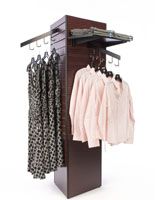 The regularly spaced slots on these fixtures allow for quick changes and endless display possibilities. Use slatwall towers to produce the perfect presentation by exposing customers to a wide selection of your goods and services in creative and enticing ways.
Why choose our rotating kiosks to display merchandise?
Each slatwall tower is 71" tall, allowing for ample space to showcase products and feature promotions. The design allows users to generate a unique shopping experience for their customers.
Rotating kiosks are available in finishes of rich mahogany and black. Users can choose a shade to best fit the space's surroundings.
Customizing this revolving fixture is a breeze - in fact, each side can have a different message. Customers can specify notes that include nine different color options and the style of text preferred.
Display stands create extra space. Say goodbye to aisles and aisles of racks - layer merchandise across the surface of these units in clear view of shoppers.
Our rotating gondolas are constructed of laminated MDF (medium-density fiberboard) which is a strong material for building. Customers will have peace of mind that this product will hold up to the everyday wear-and-tear of shoppers browsing through.
Rotating kiosks aren't complete without attachments for products! Accessories for these display stands include bins, shelves, poster frames, hangers, brochure holders, and sign holders. Attachments are what makes these gondolas so versatile - the options are endless. Users can showcase clothing, signage, supplemental material, and small loose products. Change your display as frequently as you would like to keep your presentation new and exciting to customers. We know you will find worth in our rotating kiosks to showcase your merchandise, so shop online with us today!