Curved Floor Sign Holder Stands for Menu Advertising or Marketing Posters
---
Curved Floor Standing Menu Stands with Magnetic & Snap Open Sign Holders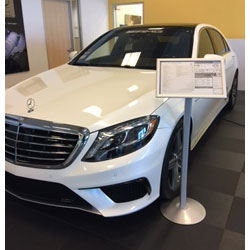 Are you looking for freestanding signage or menu displays with eye-catching style that will stand out in public? Curved floor sign holder stands offer simplicity of design and use, making them a cost-effective way to add a touch of elegance to commercial and restaurant environments. Available in a variety of heights designed to make marketing materials easy to read or keep advertisements at eye level, these versatile graphics fixtures also feature customer-friendly options such as non-glare lenses and tilting or rotating frames. We offer portable curved floor sign holder stands, also called freestanding menu display pedestals, for both indoor and outdoor use. Elegant quick-change framing is a great choice for informational graphics, sales and marketing materials, wayfinding signage, or food and drink specials. Our metal curved sign holder stands come in neutral finishes that will complement retail, hospitality, and commercial event environments. Durable construction and a variety of options make these affordable signage displays an ideal choice for businesses in any industry!
What are the top features of freestanding menu display pedestals?
Curved floor sign holder stands with single-post bases offer a clean, modern look that brings a sense of style to any environment. Dual-pedestal and shaped displays for advertisements add a sleek, contemporary feel to any decor.
Quick-change graphics are a must for many businesses. Magnetic or snap-open menu framing is designed for fast signage swap-outs.
Rotating and tilting frames with non-glare lenses are best for public environments, as they can be easily adjusted to ensure maximum visibility for advertisements and other graphics in both portrait and landscape orientation.
Freestanding floor sign holder stands with literature pockets are perfect for dispensing takeaway menus or service information. Sturdy weighted bases help ensure stability when used in public environments like restaurants, lobbies, or trade show booths.
Metal floor sign stands designed for fast graphics swap-outs, like our aluminum and steel menu displays, are a perfect choice for service businesses, churches and other houses of worship, or trade show vendors in addition to restaurants. Having the ability to quickly change posted materials without tools or disassembly is ideal for users with information that changes quickly but requires high visibility posting in public environments. Our wide variety of displays can handle advertisements, event details, wayfinding signage, and daily specials in a choice of common graphic and poster sizes.
Like many other business advertising fixtures, our menu holder stands come in both indoor and outdoor-rated models. Locking enclosures, rust-resistant finishes, and water resistant protective lens covers allow these portable signage displays to do double duty in lobbies or on patios as needed. Weighted round or flat cantilevered base styles are tip-resistant without needing an oversized footprint, allowing customers and staff to move freely.
Freestanding signage for commercial businesses should feature versatile design that allows it to fit easily into multiple decor styles. These elegant metal stands take that to the next level. The addition of something as simple as a subtly curving base pole somehow elevates the style, allowing these fixtures to be equally effective offering wayfinding information in a foyer or lobby, calling out specific merchandise fixtures on a sales floor, or drawing diners' attention to daily specials on a restaurant patio. In addition to our freestanding signage displays, we also offer a variety of elegant countertop frames for point-of-sale or tabletop use.