Retail Sign Hanging Hardware Kits for Banners, Posters & Signs
---
Hanging Hardware for Suspending Graphics from Ceilings, Windows, and Walls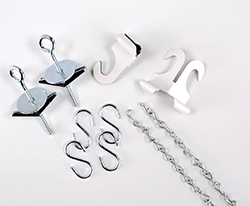 Our retail sign hanging hardware include everything you need to suspend overhead posters. We have a large selection of equipment for featuring graphics from a variety of surfaces. Retail sign hanging hardware comes with chain hangers, steel cords, or monofilament nylon lines for different presentations. Barnacle clips, S-hooks, and suction cups are included with all signage systems to allow picture mounting from most ceilings. Retail sign hanging hardware is often bought in bulk by banks, stores, and shopping malls as an alternative to traditional wall mount or floor standing displays. Viewers are more likely to notice a graphic suspended from overhead, where they'll only need to look up to see them. Additionally, these poster displays keep sales floors clear from bulky obstructions like freestanding marketing fixtures, making it easier to navigate through the store.
We offer two types of retail sign hanging hardware for promotional graphics: kits that use metal chains and those with thin steel or nylon lines. Both signage systems includes barnacle clips, S-hooks, and suction cups for a complete display solution right out of the box. The only item the user has to provide is their promotional graphics. With all of these components, this sign hanging hardware for store signage is great for featuring ads over head. Kits with nylon lines include several lengths of material to accommodate a range of ceiling heights. Customers should have measurements handy prior to ordering any package. Our other signage display kits feature metal chains instead of a nylon line. This suspension equipment gives more of an industrial look to promotional prints.
How do you hang posters from the ceiling, window, or wall?
When using sign hanging hardware, it's important to measure the area where they will be installed. The length of chain or nylon line is critical — get prints as close to eye level as possible without obstructing aisles or completely blocking windows.
Next, choose hanging hardware that matches the surface where signage will be featured. Suction cups are for window mounting while toggle bolts and hanger clips create wall and ceiling mounts.
Attaching retail signs to glass surfaces is quick and easy. Simply stick the suction cups to the window with a space between them that matches the width of the picture. Make sure they're level as well for the best presentation.
For plaster and drywall mounts, use an electric drill with a bit that's the same size of your toggle bolt. Make two level holes in the wall or ceiling at a distance that matches the frame's width. Fold the toggle bolts, insert them into each hole until it clicks. Finally, drill in the hanging hardware until it's close to the surface and attach the hanger clip to the new mount.
For customers looking to hang a banner poster board from a wall or overhead surface, we offer a large selection of banner rail sizes that can also be used along with the ceiling hook and wire equipment for sale here. These promotional graphic displays feature a snap-open aluminum rail design with pre-installed plastic clips that will latch onto the hooks in these poster display systems. This is an elegant and easy-to-use solution for featuring large format graphics in stores.
Looking for a large ceiling hanging display for a trade show? Our custom printed ceiling banners with 3D displays make companies and their booths stand out at busy events. Put your branding on multi-dimensional ceiling advertisers where it can't be missed.