Suspended Signs Hang from the Ceiling or in Windows with Chain Hardware
---
Suspended Sign Panels and Hardware for Ceiling-Hung Messaging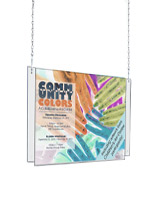 Are you looking for effective, highly-visible signage that's easy to update? These suspended signs are a standard go-to! Retailers have long relied on these ceiling-mounted poster frames to advertise in storefront windows. Grocery stores and warehouses use them to label aisles ways and display directional signage. Hotels and banks will hang signage by reception counters to convey important information to customers, while leaving counter space open for business to be conducted. Suspended signs are commonly seen in office complexes as well for exhibiting directories.
What advantages does hanging signage from the ceiling offer?
Two way visibility — For example, two posters can be placed back-to-back and hung in front of a window, showing unique messaging for customers entering or leaving the building.
Location flexibility — Users are no longer restricted to walls for posting signage. Signs suspended from the ceiling allow for placement overhead in a central location for more effective advertising or to ensure wayfinding is always visible.
Better space utilization — These displays leave wall space open for exhibiting other advertisements or shelving for merchandising.
Each suspended sign consists of a frame with small holes drilled in the top corners where "S" hooks connect it to either a length of chain or monofilament wire. Depending on whether you have a solid or a drop ceiling, toggle bolts or hanger clips are used to secure the sign, letting it hang freely. Some suspended sign frames have additional holes drilled into the bottom corners for daisy-chaining several signs together with "S" hooks. Go for a simple, two-sign setup or link multiple sets of signs together into a large grid to create an undeniably eye-catching advertisement!
What options are available for layouts to fit my space?
Single frames with hardware — One sign in the media size of your choice with the hardware to hang from the ceiling (most often chain).
Multi-sign and grid kits — Anywhere from two to sixteen sign frames in the same media size with enough hardware and "S" hooks to arrange them in a pre-set layout.
Build-your-own — Purchase signs that do not include hardware to add on to existing setups or use your own. Hardware kits are available for purchase so you can get exactly what you need and create the layout that works for you.