Digital Menu Stands - Modern Freestanding Restaurant Boards
---
Floor Standing Digital Menu Boards with Built-in Media Players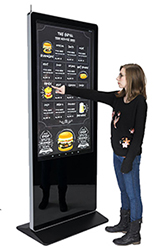 Sick of designing and printing posters to hang in your restaurant every month? Use digital menu stands to feature food options on a modern, reusable display. In a fast-paced, technology-driven world, companies are replacing static signs with attention-grabbing electronic signage. Digital menu stands make excellent dynamic advertising systems in the food service industry, changing between different menus, specials, and offers with ease. When compared to print, these boards appeal more to the senses and even decrease perceived waiting times. Whether they're placed in a fast food restaurant, a casual dining eatery, or a high-end bistro, these digital menu stands will inform customers and increase sales. Learn more about digital menu boards and other advertising options for your restaurant.
How can promotional electronic boards be used in the food service industry?
Digital menu stands can inform patrons about the latest cuisine selections, leading to more sales for new items.
They can introduce healthy choices by showcasing pictures of ingredients that go into making each fresh entrée.
Electronic signage is great for letting customers know about upcoming events like band performances and trivia nights.
Managers can easily provide nutritional information for many different entrées for health-conscious patrons.
The screens are also great for entertaining those waiting in line with the above information. Time will pass more quickly for occupied guests than bored ones.
Menu stands are offered in a range of styles and screen sizes. Dynamic media displays are designed with many convenient features that allow each board to be personalized. These electronic signage systems that integrate cutting-edge technology allow users to feature slideshows, videos, and even audio. In addition, content can be modified quickly through the simple, straightforward software provided. Conveniently, e-posters have a hidden media port on the back to hold thumb drives filled with promotions for your restaurant. Place a media-playing monitor in the café's entrance next to a hostess station to entice, inform and engage with your audience.
How easy is it to customize these menu stands? Our simple displays use a template system that makes it easy to switch between different appearances on the fly. Simply log into the software account that's included for free. Choose from more than a hundred layouts for the one that will suit your establishment. Upload logos and images, change fonts and colors, and create fully personalized slideshows by inserting a USB stick. Learn more about our electronic signage fixtures in our article.
Our Android based digital poster stands are even easier to customize. Using the most popular phone operating system, these displays have a simple design for effortless customization. Each model has a Wi-Fi connection for editing their appearance and content on a PC. Other options include our line of touchscreen fixtures that are incredibly intuitive and easy to edit. Customers will also benefit from these touch displays, which can be set up to complete orders with the right app.
These e-poster stands are sold as bundled kits complete with all necessary tools needed to setup, install, and configure without any trouble. As a one-time investment, our signage showcases save money when compared to the hassle and expense spent on frequent banner printing costs. The notable return-on-investment adds immensely to the displays' value, turning a single purchase into a profitable expenditure. Go green, conserve funds and reinvest in restaurant locations with these electronic signage stations.