Metal Wall Mounted Magazine Racks Organize Industry Periodicals with Space-Saving Displays
---
Metal Wall Organizer for Literature, Periodicals, and Marketing Flyers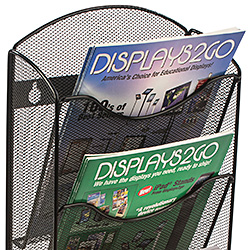 Are you looking for a durable promotional display to dispense industry-related journals in your high-traffic place of business? This selection of metal wall mounted magazine racks is manufactured with quality steel and aluminum materials that maintain professional appeal through years of wear-and-tear. Each unit is resistant to scratching and bruising, ideal for use in public offices, waiting rooms, and lobbies. Metal wall mounted magazine racks are ideal for dispensing an array of printed media options including brochures, flyers, books, and catalogs. Many models feature adjustable dividers, making it easy to adapt to the ever-changing demands of your business! Metal wall mounted magazine holders double as a space-saving option for offices with limited floor space. They do, however, offer more storage space than most floorstanding or countertop models.
What features and styles make these literature holders unique?
This catalog of adjustable wall mounted magazine racks support a large range of multi-pocket designs that can hold anywhere from 6 to 32 separate pieces of literature. Mix-and-match printed marketing materials to suit the specific campaign needs of your business. Many models include clear acrylic shelving, to clearly demonstrate each piece for customers to browse.
Some wall mounted magazine racks are designed with wire frames supported by thick steel rods. These units feature stacked designs, allowing the rack to remain near-invisible from a short distance. This design creates an appearance that your publications are floating on the wall. Steel mesh wall mounted magazine racks offer a fresh look in comparison to typical literature displays and match any environment.
Designer models feature a curved model that ups the ante as far as interior decorating is concerned. These magazine racks are fabricated from extruded aluminum, each curved rail coming with a satin silver anodized finish. Upscale literature holders are an excellent choice for specialty shops and studios or high-end events. This line of magazine racks is offered in both horizontal and vertical orientations and some include a poster display section for increased marketing potential.
Adding a magazine rack to your office, lobby, or waiting room is a great way to share relevant marketing material, promote specific product lines, or simply provide customers with entertaining publications while they wait. Here at Displays2go, we carry a plethora of adjustable literature holders to meet the needs of any possible marketing plan. Shop by style or choose to browse our inventory by material — plastic, wood, or metal.