Plastic Literature Stands with Black or Silver Finish Matches the Decor of Any Environment
---
Plastic Multi-Pocket Literature Stands Provide Customers with Periodicals & Marketing Materials
Do you have a plethora of printed marketing materials that need to be displayed in your office or lobby? Use a floor standing plastic magazine rack to organize various forms of printed media in places your customers can reach them. Multi-pocket units allow users to easy-load many forms of take-away literature. This includes brochures, booklets, journals, and periodicals. Some floor standing plastic magazine racks include a top-mounted sign holder, the perfect advertisement tool for creating a diverse marketing display. Use these fixtures to attract customer attention with quick-change graphics. These units provide guest with important information such as medical advice or product catalogs. Floor standing plastic magazine racks are available with or without wheels. Each features a lightweight frame that makes relocation a breeze.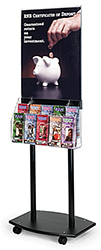 What are some special features and specific capabilities of these literature holders?
Free standing literature holders are offered in many sizes ranging from just five to 32 pockets depending on your marketing needs.
Dual-sided display capabilities make these floor standing plastic magazine racks popular with customers because it is easy to increase the exposure of a particular advertisement or present a more diverse line of information.
Many models include top-mounted poster frames for increased marketing potential. Our customers use these units to create attractive advertisement displays. Custom graphics, such as these marketing posters, can significantly boost brand awareness and prompt customers to grab take-away information to bring home.
An important feature of these plastic magazine racks is that many include removable dividers. Adaptable pockets allow different literature sizes of media, including 4" brochures and 8.5" journals, to be displayed in one fixture. This unmatched versatility will ensure that any one of the plastic magazine racks above will meet the needs of whatever marketing challenge your organization will face through the years.
The ideal placement of an acrylic literature stand, with a graphic frame, is in any retail store entryway, office atrium, or hotel lobby. Given the versatility and classic black and silver accents, our magazine racks can find a home in any business environment. Shopping malls, especially those with long pathways, are also great places to set up the graphic displays. Other times, they are spotted in banks, universities, museums, and visitor centers where passersby can quickly view and take home valuable information.
It should go without saying, that utilizing a proper magazine rack is to display printed media is far more appealing than leaving stacks of periodicals scattered about. Whether you have these journals available for marketing purposes, or to entertain guest in the waiting room, an attracting presentation maintains a professional look. For organizations with limited floor space, check out our line of our wall-mounted literature holders as a compact option with ample storage. Each catalog rack on our site is affordable and high-quality, offering lasting appeal and high-durability in any busy environment.