Vendor Display Tents with Custom Printed Graphics
---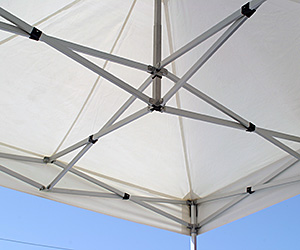 Customize Your Pop-up Canopy with Promotional Graphics!
When it comes to selling food or merchandise at outdoor events, it pays to provide shade for you and potential customers. Our vendor display tents do just that, but with an additional promotional edge! These EZ pop-up canopies feature custom printed graphics. It's readily apparent the value of having the name of your business emblazoned on the fabric. This is because vendor display tents with advertising graphics provide a destination point for festival attendees. Whether they are getting hungry or looking for a particular item, seeing who you are and what you're selling lets your customers find you fast. Our vendor display tents feature durable polyester fabric with optional full or half wall accessories. Setup is easy thanks to the collapsible frame design. Each tent comes with ground stakes and a canvas carrying bag to make transport to and from the venue easy and convenient.
What are my options for purchasing a custom-printed pop-up canopy?
For a quick and easy build-your-own booth option, standalone vendor display tents give you the widest versatility to create a space that works for you. Perfect for a graphic refresh or adding on to your existing event supplies, these custom printed shades slot seamlessly into your setup. If you already have tables, counters, chairs, flags, and banners, purchasing a canopy by itself is a great cost-saving choice. Choose the size that's right for your business, upload custom graphics to display on all four sides, and you're ready for your next pop-up event.
Alternatively, fully-inclusive kits offer a one-and-done solution. Whether you're starting from scratch or looking for a total overhaul, these bundles come with everything you need to set up at a show, farmer's market, or event. In addition to a custom printed canopy, you can expect to find essentials like seating, tables or counters, and customized banners and flags. These all-in-one advertising powerhouses draw attention to your booth and help to create a unified, professional look. Bring your branding efforts front and center with custom printed display tent bundles.
Local event pop-up canopies with collapsible aluminum frameworks do more than just provide shade. The fabric prevents the sun's heat from ruining or damaging your merchandise. Edibles like cotton candy and kettle corn, artisanal soaps, paintings, and other valuables stay protected and under cover. At art shows, reducing glare is tantamount if you want potential clients to see your work in the best possible light. Adding side walls and/or backdrop walls also offers a certain degree of wind dampening, another important consideration for the booth exhibitor. However, adding custom graphics to these street fair and festival canopies is perhaps their most important feature. Passersby will see you well in advance. Entice them with colorful artwork that points attention to your wares. Once a crowd builds in front of your tent, more will surely follow!