Window Banner Hangers with Snap-Open Rails Attach to Glass Surfaces
---
Poster Hanging Snap Rails with Suction Cups for Attractive Window Signage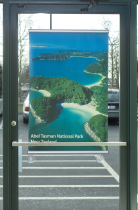 Looking for an easy, eye-catching way to place marketing materials in your storefront? These window banner hangers use suction cups to stick to glass surfaces, broadcasting your message outside to passersby. More foot traffic means more sales, so put your big, bold advertisements right where potential customers will see them. It's all about making sure you've got maximum visibility. Use these window banner hangers with suction cups to advertise a sale, get the word out about a new product, or get visitors excited about an event. Seeing an enticing poster in your large glass facade or door could make the difference between a shopper deciding to stop in instead of walking on by. Because the top and bottom rails attach separately, there's no limit to how tall your signage can be. Feel free to utilize all the space you've got. Unlike bulky frames, these minimalist window banner hangers won't distract from your message. Choose from sleek and modern silver aluminum or more economical clear plastic rails in a variety of widths ranging from 22" to 36".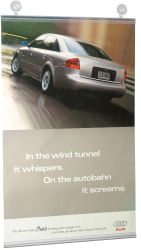 Why are these window banner hangers great for long term use?
No-mess installation — By using suction cups, these poster rails can be used over and over again. As an added bonus, reusable banner hangers also eliminate the issue of residue that could be left behind by tacky adhesives or tape.
Quick advertising changes — Swapping posters is fast and easy. Adapt and change up your visual marketing on-the-fly without having to buy new hardware or fixtures to display it. The simple snap-grip mechanism is designed to last.
Versatile application — Make every changeover of advertising materials feel novel! Move your suction cup poster rails to the door, stick them to a smooth wall or glass display case, or add suspension wires to hang from the ceiling.
When it's time to switch that messaging out for something fresh, the process couldn't be easier. Simply unhook the fixture, snap open the sign grip, replace your old design with an updated version, and close back up again. The best part? You can place two posters back to back inside the rails, allowing you to advertise to patrons in your store as well as outside. To really switch things up, pick up some chain or nylon line hardware kits for ceiling-mounted signage. By replacing the suction cup hooks with suspended holders, your snap-open sign rails become the most versatile advertising fixture in your store.