Menu Covers | Illuminated, Hardcover & Clear Plastic Menus and Check Presenters
---
Menu Covers - Restaurant and Hotel Quality Selection Holders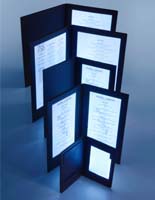 Looking for the ideal restaurant accessory to take your eatery to the next level. These menu covers are available in a wide variety of different styles that match any décor. Products are available for a wide variety of different sized menus, most commonly 8-1/2" x 11" and 8-1/2" x 14". Styles include, PVC, hardcover and LED illuminated. Table tents and bar menus are also available to nicely complement these menu covers that are for restaurants. Customize selection lists to place in these holders, most styles make it easy to accommodate new menus.
Menu covers are offered in various styles including:
Clear PVC
Hardcover
Illuminated LED
Table Tents
Check Presenters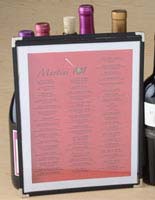 One of the newest product lines being offered is illuminated menu covers. These LED light up instantly when opened, creating an appealing presentation. Different sizes are available to accommodate any needs. Chargers are available for purchase so this menu cover is always ready to use. Battery life will last for approximately 6 hours of continuous use once these covers are fully charged. This restaurant sleeve is ideal for night clubs and dimly lit restaurants. Brighten up any décor and enable to guests to easily read list selections. Give any restaurant that VIP feel with illuminated menu covers. Special paper can also be purchased to really enhance the use of these LED jackets. Check out the check presenter as well! Never have guests struggling to read the bill again!
The hardcover series is ideal for use in upscale restaurants. Quality construction adds some weight and makes them both look and feel upscale. The black cover matches the décor of any dining establishment. They are sturdy enough to use hardboard menus, giving them a professional appeal. The corner holders make it easy to change menu selections. 4-1/4" x 11" models are ideal for wine lists. These displays lay flat and are easy to store underneath a hostess station, bar or other inconspicuous area. The weighted feel to these protectors also allow them to be stood up vertically on tabletops.
Where are our covers commonly used?
Diners
Night Clubs
Upscale Restaurants
Fast Food and Pizza Joints
Looking for something more affordable and easy to maintain? Clear PVC covers are an ideal choice. Plastic coverings protect from any stains or spills that are common occurrences in the restaurant industry. Easily slide in single sheets of menus to change lists. Use the given templates to drag and drop your menus in and print out new ones daily. This is ideal for dining facilities that feature constantly changing specials and drink menus! Styles are available to accommodate any restaurant needs. These PVC menu books also feature metal corner protectors that help prevent fraying. The double stitched design provides an intricate pattern that will match any establishment's décor.
Outfitting an entire diner with signage and other available products that will greatly improve any establishment. Check out the wide selection of bar caddies, condiment holders and podiums. Plenty of mobile and portable displays are available to make setup and take down simple. The restaurant industry can be very busy and every second counts. Save crucial time and money with our selection of convenient and effective display products. Improve the overall décor of any restaurant. Own a sports bar or pub? Check out the selection of tv mounts and digital signage kits. Advertise in your own bar today with slideshow presentations.
Displays2Go offers a variety of products to meet the needs of any retail or business setting. Draw in more customers with some of our advertising displays. Check out other useful displays including table tents, sign holders and outdoor a-frames to round out any dining experience. Water base signs are also available as well. These outdoor signs are mobile and easy to move inside after facility hours. Use write-on boards to easily change the message on any display. Place sale specials and new items prominently outside any store or diner.