Portable Sidewalk Signs with Poster Frames, Marker Boards, & Changeable Messages
---
---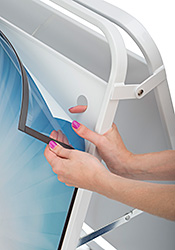 Sidewalk Signs Provide Extra Marketing and Advertising Possibilities
As a restaurant or retail business owner, why would you display yet another sign in addition to the one already on your establishment? A potential customer's line of sight has a lot to do with it. People constantly walk up and down the sidewalk, passing your store with no regard to who you are or what you're selling. In fact, they don't even look up, but they will see sidewalk signs because they are directly in their line of sight. It's this important point that makes it necessary to apply a little extra advertising, in the form of letter boards and A-frame signs. Our large collection of sidewalk signs features well over 100 styles with fold-flat designs, wind-deflecting springs, and wheels for convenient transporting. Specific models are more suited to certain industries or applications, but these portable outdoor sign displays all share the same purpose of attracting people inside your business by advertising your name or enticing potential patrons with sales promotions.
What are the different styles outdoor signs and sign holders?
Plastic sidewalk signs are manufactured from rugged polyethylene in the traditional folding A-frame style. Their biggest advantage is they are virtually indestructible and hold up to tough exterior environments. Since they don't dent or splinter, they make excellent signage choices for parking lots, garages, valet services, and construction zones.
Metal sidewalk signs are available in a few iterations, the most popular being aluminum snap-open frames. These are designed for displaying posters behind clear protective lenses. The four sides of the framing flip open for easy graphics changes. Another style is the steel A-frame which comes with magnetic lenses that simply stick to the steel backer. Definitely a step up in appearance when compared to the plastic models, the metal signs offer better styling in their overall presentation.
Changeable letter boards are another popular type of sidewalk sign, giving the retailer multiple lines of custom text space to create vibrant and easy to read advertisements. Each pavement sign comes with sets of letters, numbers, and symbols that can be infinitely re-used to push a seasonal sale or announce new arrivals.
Sidewalk marker boards are commonly embraced by the food service industry. With their wood framing and black writing surface, they lend themselves well to advertising a restaurant's food specials or a pub's happy hour prices. Depending on the skill of the person creating these hand-written messages, the marker boards can act as a platform for catchy phrases, puns, and other literary snippets to lure thirsty patrons inside. At the very least, make people smile or give them a chuckle, maybe they will post a picture on social media and, as a result, further your marketing efforts.
Wind-resistant signage is a must for many venues using outdoor advertising. Swinger signs incorporate hanging hooks or horizontal support bars, while the fillable base and T-style models feature base springs. In the first two lines, extra ballast can be added to the bases in the form of sand or water. If your place of business is prone to windy conditions, there's no reason why you can't use an outdoor pavement or curb sign. The extra weight helps keep your portable displays upright and stable, an important safety consideration due to their close proximity to pedestrians.
Real estate frames and yard stakes are popular choices for outdoor use. Realtors frequently choose portable signage to advertise an open house or property listing. These normally come in the form of folding A-frames that they can easily stow away in their trunk and set up quickly. Yard stakes are the economical answer for businesses wanting to display temporary signage. These are simple affairs, fabricated with thick steel wire in an "H" design. Plastic corrugated signage is then held in place when slipped over the two top spikes. An affordable option for yard services like landscaping and fertilizing companies, these are also known for their ubiquitous use during election year.
As easy as it sounds, promoting your business with an outdoor sign display can come with some restrictions. We suggest you brush up on your local jurisdiction's zoning laws regarding their use and application. Every town or city is different, so it will pay to understand your limitations (or lack thereof) when it comes to using one of our products.