Outdoor Literature Holders For Flyers and Magazines or Brochures
---
Outdoor-Rated Wall & Ground Stake Dispensers for Promotional Materials & Business Cards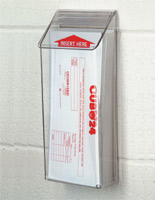 Are you looking for outdoor literature holders to dispense marketing and sales collateral to after-hours customers? Does your business get visitors looking for information 24/7? Our weather resistant outdoor literature holders with lids are a perfect choice to protect printed promotional materials from the elements without limiting accessibility. Lightweight but durable acrylic construction and a variety of mounting styles allow these flyer and catalog displays to to used outside for many different industry needs. Our outdoor literature holders, sometimes called weatherproof brochure dispensers, have easy-access flip-top lids that make them ideal for real estate agents, service businesses, or any operation that needs easily accessible sales and marketing materials outside normal operating hours. Lidded dispenser sizes range from business-card boxes to tri-fold pockets to oversize catalog bins for sales and informational flyers.
This booklet box is an effective tactic for boosting sales and overall exposure for most any type of business. Place informational literature regarding your business so that shoppers that happen to stumble upon your establishment after hours still have a means of learning what your business is all about. Real estate agents order this printed collateral box on a regular basis as they are out of the office frequently. By having an outdoor pamphlet holder mounted on the side of the building; agents are still able to provide potential clients with current listings as well as other agency news. Most of the brochure box displays for sale here include mounting hardware and have pre-drilled holes to make for a quick and easy installation. Some of the multi-pocket displays can even be purchased with custom silk-screen imprinting. Order this handout box with 3 or 5 pockets and have your business name or logo printed on the front for a more personalized look. Minimum order requirements do apply, see product pages for more details.
What types of establishments purchase these circular ad boxes?
Real estate businesses often purchase these outdoor literature holders to patrons that stop by after hours to take a copy of current listings or other important information.
Banks use these outdoor boxes to hold deposit tickets, envelopes and other forms needed for 24 hour banking.
Restaurants also order these outdoor flyer displays to offer take-out menus to curious passersby.
Can these boxes be mounted indoors?
Although these literature displays are intended for outdoor use, they are equally as effective for indoor applications.
Place these handbill boxes in a hallway, lobby or near an ATM to keep flyers and other supplies neat and organized.
The lid on these pamphlet holders keeps dust and other dirt from getting on the contents.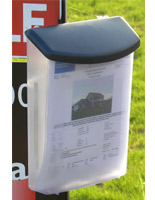 This site features over four thousand unique products, most of which are available with same day shipping. Browse through hundreds ofpoint of purchase displays , custom trade show accessories, display cases, as well as a wide selection of other outdoor displays. Displays2go is a leader in the POS fixtures business. With more than thirty nine years of experience; this online retailer continues to be a dominant force in this industry. Over 98% of orders received weekdays before 3PM EST ship the same day. No other competitor comes close to matching our level of performance when it comes to shipping. All other order requests ship the following business day, or within a specified number of days for specialty items like custom banners, and large display cases. This is a real company with actual representatives that are available to assist shoppers with any type of business matter. Unlike most other online retailers, there is assistance available weekdays during normal business hours. Shoppers can call 1-800-572-2194, email, or chat with us live. Our customer service specialists receive months of training on the products and services offered here in order to provide the highest level of support possible. Contact our call center to place an order, check on the status of an existing order, or simply to inquire about product details that may not be listed on this site. Be sure to check out the clearance and new products sections here to take advantage of quality products at unbelievably low prices!