Recycle Trash Cans | Waste Bins & Containers
---
Recycle Trash Cans - Recycling Waste Containers and Bins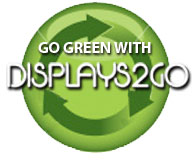 These recycle trash cans will help make your office environment "green!" The waste bins, recycling containers will help you separate trash and designated recyclable merchandise, therefore making it simple to keep an environmentally-friendly office. We offer these recycle trash cans in 4 different styles, giving you a great selection to meet all of your spatial and consumption needs. These recycling bins, also known as waste containers, are available in a smaller, deskside size, making them ideal for positioning under a table or in a smaller office. We also sell these recycle bins in a larger, 50-gallon design. These particular recycle trash cans feature wheels and a locking lid to make transporting your recyclable materials effortless! The wheeled containers, recycle trash cans can therefore be used within warehouses or areas with a large amount of paper usage.
Recycle trash cans are also available with lids made specifically for collecting bottles or paper goods. These recycle bins, such as standard recycling receptacles, and recycle facilities, feature the "mobius loop" or "chasing arrows" logo. The waste containers are environmentally-friendly recycle bins as they are constructed from post-consumer recycled plastics. By including these bins in your office, you will be complying with Environmental Protection Agency (EPA) guidelines. Your office will also become eligible for achieving Leadership in Energy and Environmental Design (LEED) accreditation. Plastic construction also means your bins are dent and rust-resistant!
In addition to these recycle bins, we also offer a great selection of waste receptacles for both indoor and outdoor use! We even offer multiple ashtrays to accompany your bins! Once you have selected your favorite waste-removal bins, please browse through our entire collection of lobby fixtures and displays! There you will find multiple stands, literature racks and displays to enhance any presentation. You can also check out our main shopping page for our complete collection of POP products. Thank you for shopping with us at Displays2go!