Pads, Pens & Tickets for Public Use for Raffles, Lead Collection & Voting
---
Suggestion/Ballot Pads, Security Pens & Raffle Ticket Blanks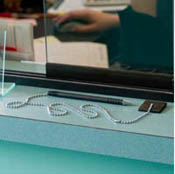 Holding a raffle, election, or lead generation contest? Displays2go.com offers a wide selection of pads, pens, and tickets for special event and every day use. A security pen is a great way to provide a writing tool for your clients. With a secure mounting base and a telephone style plastic coil, it is easy to manage a prevent theft. These counter pens feature different style bases with adhesive to stick to any countertop. These reception pens feature different styles and grips to make guests comfortable when writing. Banks, hotels, and offices will benefit from this security pen. Metal chain cords are also available on this site. Worried about running out of ink and having to remove the pen? No need, refills are also available in sets of ten.
Need a different style pen? This security pen is offered with a wedge shaped design and the traditional round shaped design. The wedge shape is larger than the average pen and is easier for people to grip. Theft resistant office supplies are a cost cutting and efficient way to save money. the price of constantly replacing writing utensils can get expensive, with a security coil that issue is avoided.
What are some popular places to use these security pens?
Banks use these displays writing checks and deposit slips
Offices place registration pens next to sign up sheets at the front desk
Retail stores provide pens for customers to sign credit card receipts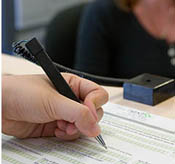 These countertop pens, security pens are an optimal means of offering a writing instrument for your customers and patrons. All of these writing utensils feature a rope or chain that helps to prevent patrons from inadvertently taking it. These security pens, also known as chain pens, feature simple yet contemporary designs to quickly match any location. Choose from black or silver finishes to match or complement existing décor. The security pens are affordably priced and are perfect for use in a variety of settings. Use these writing utensils in an office or lobby. These reception pens, security pens are commonly use in public areas like banks, post offices, waiting areas, medical centers and trade shows.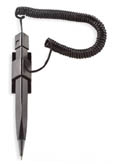 With an attached rope, guests will never intentionally or unintentionally take the pen from the store. The adhesive padding makes it easy to stick to any location, and will not leave any unwanted marks when it is removed for the countertop surface. Having a writing utensil readily available help keeps the flow of the line moving and gets customers in and out of the store quicker.
Many of the items offered here are sold in multiple quantities. Counter pens or bank pens will provide your customers with the convenience of a trustworthy writing instrument. Customers no longer have to scramble or dig in their purse to find a writing instrument. These tabletop pens, are durable and built to last. All of these secured pens come with a metal-tipped barrel to prevent cracking. We supply all of these security pens with a double-sided adhesive to securely mount your base to multiple surfaces. The double-sided adhesive will not leave any stains or spots on your table.
These displays are also great for voting booths and polling stations! Pair these writing utensils with a ballot box or suggestion box for easy access. Less pens will be needed because pollers will not be accidentally stuffing them in their pockets and walking away. Most of these pens are sold in units of 50, so a single purchase can be plenty for many polling stations.
With over 39 years of experience, Displays2Go is one of the leading companies in ballot boxes, donation boxes and suggestion boxes. Check out our main catalog that currently features more than 4,000 unique SKUs. Orders can be placed either online or over the phone. Check out other writing implements offered on this site inlcluding neon markers and liquid chalk.