Wooden Bins & Stands - Country Store Style Merchandising
---
---
---
---
---
---
---
---
---
---
---
---
---
---
---
Using Wooden Barrels & Bins Create a Country Store Style Environment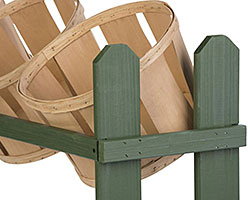 Wooden barrels are becoming an increasingly popular method to storing and merchandising bulk items and foods. Fruit stands,farmers' markets and country stores really like to use these display barrels to add to the rustic style environment. Some of these displays allow you to utilize the entire space of the barrels, while some other ones feature false bottoms to keep items at the top for customers to access. Optional tops are also featured to cover the contents of the barrels. Wooden display barrels and crates can also be used for purely decorative purpose. Many merchandisers will store extra items in the barrels and then leave them out on the showroom floor as a decoration or additional furnishing. Half barrels are also available that sit flush against the wall to help conserve floor space. Stack or nest wooden crates in a rustic space-saving fashion as well.
What types of stores often use these fixtures?
Craft Stores - The more traditional look of these stands nicely accompanies home made goods and crafts.
General Stores - Accomodate the "old-timey" feel of general stores with these rustic wood store fixtures.
Antique Shops - Modern and contemporary style displays are the last thing you'd want in an antique shop. Try these wood store displays instead!
Wood retail store displays from Displays2go add a touch of the country to your store. You will find bins to display bulk merchandise such as fruit, candy, toys or other small gift merchandise, you also will find a retail hutch and peddler cart great for country stores, gift shops, large retail stores or flower shops. Each product in this category is constructed of wood and some have colored accent pieces. Utilize different style stands to meet various merchandising needs. Wheeled carts are great for snack displays or using as a vendor stand in the central locations, like a shopping mall. Stationary stands come in different styles, including a (9) wooden basket configuration and a floor standing metal fixture with varous wooden shelves. Match the different types of fixtures to accomodate your stores needs.
Barrels, bins, and crates are a unique way to merchandise and display food and other products. These displays are 100% wood and hand-coopered.Some barrels have false bottoms so they don't need to be filled to the top with merchandise. Barrels are a unique way to merchandise and give a rustic feel. Antique and grocery markets can really benefit from the use of these displays.