Cardboard Magazine Displays - Corrugated Floor Stands for Literature
---
Corrugated Literature Stands with a Lightweight Design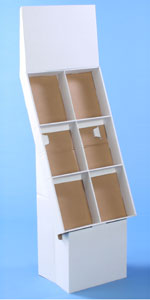 Looking for a versatile solution for displaying periodicals? Cardboard magazine displays are a great addition to any environment, whether it's a temporary location like a trade show or a permanent fixture in a store. The foldable design and cheap construction make the literature sales racks ideal for limited budgets as well as those on the go. The corrugated cardboard magazine displays can quickly assemble in minutes to give users a great presentation. Fill these free-standing bins up with several different periodicals to encourage impulse sales. The cardboard magazine displays are perfect for use in any merchandising location, especially retailers that set up convenient bulk sale bins. Bookstores, coffee shops, and convenient stores are great places to utilize our literature holders.
Why should I choose corrugated literature stands for my business?
Cardboard magazine displays are a great investment due to their durability and design. Place where your customers' attention is focused and increase the likelihood of making a sale. The floor retail displays provide a quick and easy solution for presenting many magazines at one time no matter what the application.
Due to the corrugated cardboard construction, these are very lightweight. As a result, they can not only be moved with relative ease but also can be relocated frequently depending on the store's needs. The portable design is also perfect for trade show events and conventions as well.
The removable header adds extra advertising power. The modular design of each of the displays makes it simple to create a customized sign for a selection of publications or reading materials. Custom printed signs are easily attached with tape or you can apply computer-cut vinyl sign graphics. The large size of the header provides plenty of room for developing an effective, high impact sign.
Deep pockets are another fine attribute. Each can accommodate several magazines at a time, which makes it easier for store employees to keep catalogs, tabloids, flyers, and periodicals always stocked.
The cost is very low for these multi-compartment display systems. The affordable price tags make it easier for business' with restricted budgets to implement a quick and effective merchandising solution.
Where can corrugated literature displays be found? Sometimes these store product holders are set up near high traffic areas, including entrances and pathways to capture the attention of passersby. The point-of-purchase design is also perfect for placement near registers and checkout counters as they frequently encourage more impulse purchases. Think about any grocery or convenience store. Magazines, tabloids, and other periodicals are also located close by the checkout line because customers have some entertainment while they wait for service. Take advantage of these cheap and easy-to-use displays and showcase tabloids or even free promotional materials. If you're looking for a more permanent solution, try our floor standing wooden magazine stands for commercial environments.