Metal Literature Stands Store and Display Periodicals with Rugged Dependability
---
Need Durability? Buy Magazine Stands Made With Steel or Aluminum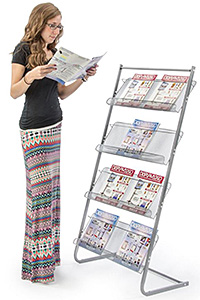 The one thing wood or plastic can't offer is toughness. Metal literature stands have the strength to withstand daily use, especially in high traffic areas. Good choices for retail businesses and service centers, our magazine racks are displays you can rely on! Metal literature stands are available in simple post designs or modular series with add-on accessories. You have the flexibility to purchase separate posts but with different attachments, depending on your application. This kind of adaptability is what makes metal literature stands so attractive to businesses, offices, even schools. Whether you're offering catalogs, flyers, or periodicals, steel and aluminum display fixtures are the smart choice.
What magazine rack styles do we have to offer?
Basic metal literature stands with the simplest designs fall into this category. Models can feature just a single tray or multiple slots accommodating 40 magazines. Most displays are designed with aluminum supports that hold acrylic plastic pockets.
The Forte & Brava series are Displays2go's own. We designed these two lines to be affordable yet modular. Both offer the same accessories but feature different base configurations. The modular part of these innovative racks means you can add or remove add-ons from the support pole as you see fit. In addition, the accessories can also be adjusted up or down. However, the Forte series has the advantage of offering more combinations, as well as black in addition to the standard silver anodized finishes. Some models come with snap-open sign frames which makes changing graphics a breeze. Exploiting the use of poster frames is what makes our freestanding fixtures such great displays for marketing and advertising. We also offer these stylish literature stands in double-sided versions. No matter which model you buy, additional accessories are available for purchase separately.
The Wave series offers just what its name implies. Inspired by European designs, this line looks like no other. The extruded aluminum posts feature graceful S-curves that sandwich the acrylic magazine holders. Some models allow you to showcase graphics in addition to your promotional, giveaway materials. Your custom-printed posters slide into channels that produce a curved and innovative presentation. Intended for upscale environments, these literature stands make a bold statement with their modern design aesthetic!
As with any freestanding display, strategic placement is crucial. Setting up a magazine stand in your lobby or waiting room? Pick a central location comfortable and within easy reach of patients or visitors. In promotional or professional functions, utilize literature racks that offer catalogs, forms, or brochures. Applications include car dealerships, governmental agencies, service centers, hotels, tourist bureaus, the list goes on and on. The thing to remember? If value and longevity are important to you, we highly recommend magazine and literature holders made with metal. The strong material will provide years of service. Want to carry over the benefits of using metal to the sales counter? Steel wire magazine pockets display promotional materials at the tabletop level!