Quick Clip Frame Stands with Fast Front Loading Features
---
Front Loading Snap Open Stands for Quick and Easy Poster Changes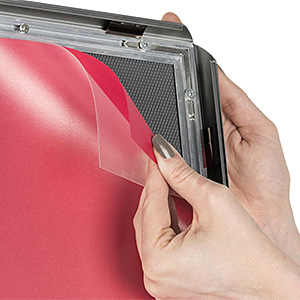 A floorstanding sign display isn't worth the trouble if it's a pain to change the insert. Quick clip frame stands offer the kind of hassle-free performance that's required for constant updating. These include daily restaurant menus, event schedules, and short promotions like seasonal sales or new product rollouts. Our quick clip frame stands accommodate most of the standard poster sizes. Smaller inserts like letter or ledger formats are also available. The snap-open displays are manufactured from lightweight, strong aluminum for rugged but repeated use. Thanks to their freestanding designs, the stands can be conspicuously located in high-traffic areas for targeting potential patrons and customers. If high visibility is what you need, let these quick-change frames do the work for you!
What are the main selling points of our poster snapframes?
Quick clip stands work using spring-loaded framing. All you have to do to add or swap out a graphic is to flip open each side. The entire process takes seconds and, over the long run, saves a lot of time.
Our selection is vast with stands available in black or silver anodized finishes. Standard models feature straight or curved poles in singular or dual-pole styles. The sign holders are predominantly flat but we do offer a handful with convex designs for added visual interest. As mentioned above, there is a model for most sign and poster sizes. Our large totem stands can display full-color graphics rising up six feet or more!
They're loaded with features. If the viewing angle is important, choose stands with tilting capabilities. Adjustable height poles raise your graphics above the crowd for better visibility. Acrylic literature pockets attached to the front provide a way to offer patrons free information. We even sell models that can display outdoors. However, the most attention-getting stands are those with interior lighting. Illumination attracts the eye no matter where it is applied!
A specialized application is our charge stations line. These fixtures feature a walk-up design with cords for charging small devices. Fast change poster frames are included above for calling attention to this free service. Placing one of these displays inside your place of business acts as a draw for potential customers. While they use the charge station they may take the opportunity to make a purchase inside your store.
Snapframe poster stands for business are exceptionally popular with busy stores and restaurants. With a front-loading design, updating your graphics is achieved without hassle. Signposts with wheels are also advantageous — thanks to their ability to roll wherever they are needed. Both user-friendly styles would be beneficial in helping you connect and communicate with customers!