Stanchions And Ropes - Velvet & Braided Crowd Control Barriers
Stanchion & Rope Sets
Accessories
---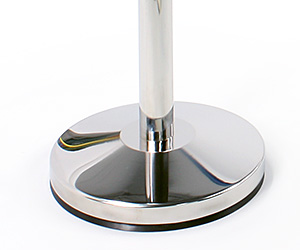 Crowd Control Stanchions and Ropes for Museums, Lobbies, and Events
Is your business in the market for an upscale crowd control system? Professional quality Stanchions and ropes have a classic look perfect for creating an exclusive feel in any environment. Our upscale metal posts and soft velour or braided nylon lines come in many color choices. These high-end systems offer a mark of distinction wherever they are used. Unlike retractable belt models, common to checkout lines, stanchions and ropes provide an elegant style suitable for exhibitions, launches, grand openings, theatrical premieres, and stately lobbies. They offer traditional designs and color options in a range of styles and price points. Combining top quality construction with the lowest prices on the web, QueuePole stanchions and ropes consistently exceed customer expectations as an economical and stylish alternative.
How can I buy a crowd control system?
Our QueuePole stanchions and ropes are packed and sold in sets for convenience and cost effective shipping. This economical brand offers 6.5' ropes for additional space and value.
Steel stanchions come in a variety of finishes including: powder-coated black, polished metallic gold or silver, and brushed metallic gold or silver. Post tops feature flat head, tulip, or round ball designs. All posts come with weighted bases for extra stability, and non-marring rubber bases to protect the flooring.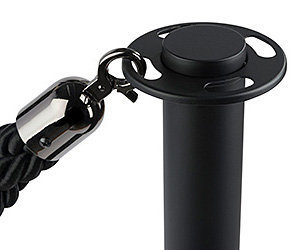 Specialty plastic stanchions are designed for both indoor and outdoor use. Our full-size posts feature either fillable or ground-spike bases for maximum stability in high traffic areas. Lightweight plastic chain barriers allow these versatile fixtures to serve for either crowd control or decoration as needed. Bold colors and specialty messaging make these high visibility access control accessories a great addition to employee or facility safety programs.
When designing a crowd control system, you may need to order a single stanchion. Called receiver posts, these stand at the end of a line to accept the last rope. Prefer to end a queue line at a wall? Purchase a wall plate receiver which replaces the need (and cost) for an extra post.
Additional ropes are sold for our QueuePole series only. Choose the traditional plush red velvet, or opt for a soft velour or braided nylon style in blue or black. All ropes feature metal hooks with chrome-plated finishes.
Sign toppers offer an opportunity to inform or direct patrons in a professional manner. We stock slide in 4-side sign holders, bottom rail holders, and literature baskets.
These upscale barriers are used to section off crowds from VIPs and they help form organized lines in areas with high foot traffic. Crowd control configurations are only limited by the size of your interior layout. Shop from our extensive selection for the system that works best for you. We pride ourselves on exceeding expectations!