Sign Standoffs "Through Style" (Sets of 2 or 4)
---
Through-Style Sign Standoffs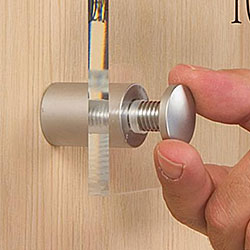 Sign standoffs, also known as sign mounting hardware or display panel fasteners, require holes drilled through your signage in order to be mounted. These quality wall fasteners are cast in brass and then machined into a work of art. These standoffs are made from stainless steel and can even be used outdoors! What materials can these fasteners attach? All of the standoffs in this collection can support wood, acrylic, glass, or any sign panel worthy of display. Add some panache to the drab logo and name signage in the office. These sign standoffs, also called through mounts, provide a practical yet stylish tactic for mounting signage or decorative panels. These wall mount devices come in 12 sizes with your preference of finish. Economically priced, these standoffs bring expensive looks to any panel mounting task. The size and weight of the panels should dictate which size and style are necessary for the job.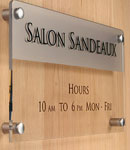 This catalog offers signage mounts and panel fasteners for the retail sign industry as well as interior designers. Buy through fixtures online from this large variety of in-stock panel mounting products. These mounts are sold in packs of four to secure the corners of the custom signage. Installing sign equipment is incredibly uncomplicated. These models are called "Through Style" because of the threads and simple affixing. The threaded hardware makes for easy twisting into any wall. Mount the hardware to the wall using the included hardware. Slide the caps through the drilled holes in the panel and hand-screw the caps tight. Done! Each of the sets included in this category are crafted out of either sturdy brass or stainless steel metals. The mounts keep the signage in the correct position without distracting from the overall message. Some of these models require the signs to have holes pre-drilled for easy installation. These economic wall fasteners can transform your next installation into a high-end display!
What options are available with these signage mounts?
These displays run in a variety of sizes for securing particular width signs. Ranging in size from ½" by ¾" to 1-1/2" by 1-1/2", there is certainly a fastener to support the grandest of office signage. Measure the display unit to find which mounts would work best.
Closely related to the overall size of the models is the distance each can keep the signage from the wall. Users may want to accentuate advertisements by having them jut out from the wall a good distance, or keep them close to the wall as to maintain a low profile. There are many possibilities with this hardware.
There are different finishes available. Even though all of the fasteners are made of brass or steel, Displays2go.com manufactures the units with multiple color options to match the display. Choose satin silver, chrome, or gold finishes. Of course, the natural steel color is also available.
Who uses these fasteners?
Retail stores and other shops within a mall are often interested in using these mounts. They help each business differentiate themselves from one another. Frequently, it is the stores with the best signage that get the most customers. Try these mounts in the next store front display.
Many companies keep iconic images and logos on the walls in the lobby. The signage is often crafted from very elegant and thick materials. These signage mounts are the perfect solutions for these situations. They can securely hold the display without taking away from the overall elegance.
People creating outdoor signage often implement these metal fasteners to secure the message on a wall or other structure. These models are highly sturdy and can withstand the elements. The strength of these products are unparalleled.
Anyone who is interested in a convenient means of installing a message made out of wood, plastic, metal, or any other substance. These models are exceptionally easy to use and work on a variety of wall surfaces.
Display hardware, panel supports, and other models can help market or advertise goods and services. These display accessories install quickly and look fantastic. Buy these models today and start realizing the full potential. Displays2go.com offers different sign fastener types for sale, notably border and tamper-proof models. These panel supports don't require holes for mounting. This is significant for users who would not want to drill holes or cannot drill holes into a certain style signage. Also for sale are cable display systems in kit form for displaying posters and brochures. These wall mount systems are becoming very popular with their sleek and modern looks. Displays2go is proud to provide signage mounting hardware to the POP industry. Browse the display signs category for other showcase and display products.
In the display producing business since 1974, Displays2go has constantly added brand new point-of-purchase displays to its objects base. Their collection includes a litany of different displays. Ranging from digital signage to wine cabinets, Displays2go.com is a leader in every aspect of the display field. Their efforts have resulted in a rapidly expanding warehouse filled with the products consumers depend on for in-stock reliability. These on-site warehouses are continuously being revised and expanding to include the most cost effective and interesting displays recently on the market. Due to the fact that the warehouses are on the premises, Displays2go.com can make offers that other cannot in regards to their shipping. All in stock products are sent out the same day as purchased when ordered before 1:00 p.m. EST! None of the competing display companies offer that. Check the live inventory counter in the corner of every item page to see whether the specific model is in stock. This counter is updated by the minute to most accurately serve the customer. For answers to any inquiries regarding the products depicted in this catalog, please feel free to e-mail or call the live customer service specialists. These expertly trained agents are available Monday through Friday from 9:00 a.m. to 5:00 p.m.! Also, try the unique "Live Chat" option for immediate online attention. To view all the amazing objects categories please visit the main shopping page.