Wood Picture Frames | Many Wooden Framing Styles & Sizes Available
---
Wood Picture Frames - Various Styles and Sizes Available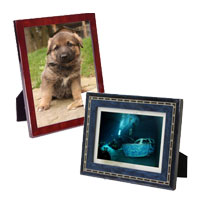 These wood picture frames are available in many sizes. Whether customers need a way to display a small photograph or a full sized diploma, there is a wooden framing option specifically for the function. The wooden picture frames, also known as hardwood photo frames, are in stock and ready to ship. There are many different veneer styles to choose from, including natural oak & cherry as well as painted options. Many wood picture frames have easel backs for support when used on a tabletop surface. Customers can simply pull out the easel backing and set the photo holder on a flat surface, such as a shelf, end table, or other display area. Most of our wooden picture frames that are affordably priced can be used as countertop and wall-mounted units. Many of the models have metal clips on the backside for hanging on walls. Wood picture frames and wooden photo frames are easy to purchase from Displays2go simply because they are sold in bulk quantities. Larger quantity orders are priced based on wholesale costs, so our customers are able to save more when buying in bulk. We stock massive amounts in our local warehouses to meet the growing demand from not only individual customers but also framing shops and other resellers. This means that when you place an order for picture frames before 1:00 PM EST, it will ship the same day in most cases. We offer wooden picture frames in various sizes and price options. Customers can choose the one that best fits the budget and photograph size. Wood picture frames with mats are an optimal item to personalize your office. Any time you need a photo frame with easel support or any other type of photo framing option, Displays2go is your one-stop shop.
What kinds of designs do these wooden frames have?
These wood picture frames have various designs available to choose from.
Traditional picture frames are classy and popular.
Collage wood frames are ideal for displaying multiple pictures at one time.
Special Italian designed frames are decorative and practical.
These photo holders come in different styles to best suit the situation. There are a variety of options to match the environment or accentuate the best aspect of the image on display. The traditional line provides a series of time honored solutions for showcasing pictures, diplomas, certificates, and much more. The basic lines and universally accepted structure make these units an ideal choice. A variety of colors are included to further correlate with the overall aesthetic. There are also collage models for holding multiple images in one exhibit. The multi-photo showcases offer up to four different pictures in different shapes and styles. Find the perfect wooden frames for the situation here!