Rigid Poster Holders & Bases for Foam Boards and Other Graphics
---
Rigid Poster and Meter Board Sign Holders and Bases for Indoor & Outdoor Displays
Are you looking for an impactful, yet affordable freestanding signage solution for retail, event center, or restaurant settings? Our rigid poster holders do away with pricey stands and frames, giving out customers a simple, effective way to present their custom printed promotions. These easy-to-use graphics bases offer a no-frills solution while maintaining a classic, professional style. These rigid poster holders accept all your typical sign-making materials, such as Gatorfoam®, Coroplast™, Dibond®, and more. Swap printed graphics easily between seasonal events, marketing campaigns, and limited-time sales to attract customers, encourage foot traffic, and bring in visitors. Use offer rigid poster holders in a variety of styles, allowing signage to secure advertisements in place with screws, wedges, or frames. These economical displays can be used with multiple sign panels throughout the year and are easily moved between locations both indoors and out.
What freestanding meter board bases do we offer here, and why are we a top choice?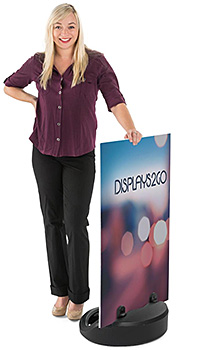 Our floor standing rigid poster holders include sign clamps and wedges, which feature angled designed with a silver or black finish. The two sections sandwich your graphics panel and secure it in place with wingnuts. These models are available in 12", 24", and 36" options to accommodate your various promotional needs.
Weighted base poster holders are generally made of corrugated plastic and designed to be filled with water or sand. While our metal units are recommended to be used indoors, these metal options are perfect for outside use in any climate – so long as the graphic on display can handle varying types of weather. The weighted base keeps your stand upright in windy, inclement conditions. The dome-shaped model features holes in the three fold-out legs that accept stabilizing ground stakes (included with purchase).
Corner frame poster holders are ideal for heavily-trafficked public places such as convention centers, trade shows, and retail shopping outlets. These models feature durable metal construction with side-loading functionality for foam-core signage. The hinged form allows our customers to present wayfinding signs or promotional material in two directions at once, often around corners to direct foot traffic.
Corrugated signboards, or Coroplast™, are included with the fillable base units. You can take the blank panels to a local signshop for applying printing or computer-cut vinyl graphics for display with these sign holders. Or, take advantage of one-stop shopping by utilizing our in-house UV printing service! Send us your custom artwork and we'll print the boards with weather proof inks. Single or double-sided graphics are available. Letting us do the printing will save you both time and money!
Pairing our floor base poster holders with a custom signboard is an economical way to entice new sales, attract the attention of passersby, or remind existing customers of seasonal sales or event schedules. Cheaper than a framed floor stand, less expensive than a snap-open sidewalk sign, these simple graphics holders will pay for themselves quickly. Thanks to the user-friendly design, changing out old posters with new is an easy process. Use them for advertising upcoming events. Place one outside your cafe to help draw potential patrons to your door. Help direct crowds with wayfinding information. The applications are endless!