Desktop Reference Organizers - Counter & Wall Mount Cataloging Racks
---
---
---
---
---
---
Desktop Reference Organizer & Binder Stands - Office & Hotel Lobby Directories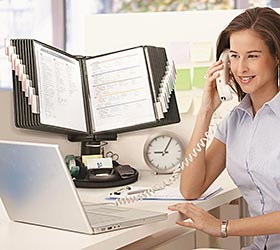 Are you looking for a way to neaten your office space and avoid clutter? These desktop reference organizers, known as office quick guides, have many great features to make them almost a steal at this price! Although these are shipped unassembled, full, detailed fabrication instructions are included for quick setup. Your documents fit right into a non-glare plastic pocket on these desktop reference organizers. Ten, twenty, or thirty non-glare plastic pockets allow the display of up to 60 forms or documents. Desktop reference organizers include simple-flip pages which can be removed quickly to change out content. Clip-on, adjustable tabs further organize your documents. We offer binder stands in your preference of black or silver-gray.
What are some of the features of a organization system?
Desktop reference organizers can have rotating bases to be viewed from any angle.
Wall mounting displays are available to avoid using valuable countertop space in hotel and commercial lobbies.
Different panel and pocket amounts are available, including 10, 20, and 30 pocket displays.
Stationary bases are available for users who do not want customers tampering with the quick reference booklet.
Office quick guides are ideal for hotels, whether they are used in the room or in the lobby. Use wall mount reference organizers to place in hotel rooms with information about local restaurants and tourist attractions, or to place a phone guide with extensions to reach specific hotel services. Lobby guides can be used as a directory to find rooms or facilities, like pools and gyms.
Different colors and styles are available to mesh with any décor. Choose a silver or black base to match the countertop or wall the reference guide is being attached to. Some of these organizers feature tabs at the end of each panel so users can quickly access what they are looking for. A reference guide is ideal for large commercial buildings that house a wide variety of businesses, and smaller than a master catalog rack. Have a separate tab for each business, then list individual employees and the extension that they can be reached at.
Catalog systems are designed to sit on a countertop to provide information to business guests, patrons, or clients. Display and hold standard 8-1/2" x 11" papers and are ideal for large office buildings. There they can be used on the desktop of the main lobby to provide a directory of the building, or in individual business offices to outline company history, information, or other important material. These countertop reference organizers are also optimal for office workers. Secretaries or receptionists may find this resource guide especially useful for keeping commonly referenced or photocopied materials neat, sorted, and at hand. This displays are much thinner and easier to manage to a large and bulky master catalog rack.
Catalog and directory binders are not only designed for corporate office or retail use, however. Reference binders can also be seen in libraries, hospitals, insurance or travel agencies, restaurants, cafeterias or other foodservice institutions, tattoo parlors, karaoke bars, medical offices, hotels and much more. The uses for these quick reference guides are endless! Anywhere that documents, forms or other papers are regularly needed or referenced is a great place for quick referral guides.
These desk reference stands are just the right thing to organize papers or documents. We sell these organizers to commercial businesses and stores across the United States. Here at Displays2go, we are dedicated to providing our customers the highest quality products at the best prices, with the shortest lead times. Check out our main products page. We have tons of products in stock and ready to ship, including many other office supplies!