Podiums with Speakers and Microphones Make Great Presentation Tools
We're sorry, but no items matched your search query.
---
Podiums with Audio Systems are Perfect for Large Lectures & Presentations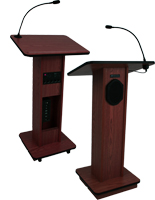 Looking for the best of both worlds when it comes to presentation tools? Podiums with speakers and microphones are a great way to combine two necessities in the world of speeches and public addresses. Users won't have to worry about forgetting audio accessories when they're integrated into the stand already — it makes presentations easy!Portable podiums with speakers and microphones have an added convenience factor and bring peace of mind to presenters due to their all-in-one appeal. Browse our selection of pulpits with integrated sound systems to find the one best suited for your environment. Podiums with speakers and microphones will be sure to enhance any presentation.
What are some of the advantages of our pulpits with integrated sound systems?
Podiums with speakers and microphones are every presenter's dream. Gone are the days when users need to set up and sound-test their audio - everything is combined into one. Say goodbye to extra wires and extra stress. All users should do is worry about delivering a stirring speech!
There are various styles of lecterns available from AmpliVox and Oklahoma Sound - ones to complement any location's environment and décor. Choose from colors of mahogany, oak, cherry, and walnut. Looking for a specific type of pulpit material? We carry units constructed from wood, polyethylene, melamine, and wood veneer.
Pulpits built with wired and wireless preferences for microphones give flexibility to the presenter. Each style stand is available with these options. There's also wireless over-ear headsets and lapel mics that are compatible with some models.
To accommodate presenters who are different heights, adjustable lecterns are very helpful. Easy to use, these stands can be as low as 39" and as high as 45".
Portability is also a huge factor while using our lecterns. Most stands have built-in wheels to transport the unit from place to place. Imagine you're in a school auditorium and your speaker is about to present. Simply wheel the pulpit out on the stage and wheel it back into storage once the speech is complete.
Some of the stands on our site are rated for outdoor use. This can be ideal for events like outdoor graduations, corporate events, and other ceremonies.
Some accessories for these lecterns can provide environmentally friendly alternatives to powering your pulpit. We have an optional rechargeable battery with a 20-hour battery life to be used with the Oklahoma Sound stands on our site. This rechargeable battery is perfect for venues where lots of power equipment is going to be used and outlets are at a minimum. Instead of having to plug your lectern into a wall, the unit can power itself with this battery option. Looking for other pulpit accessories? Supplemental microphones, lighting, and protector covers that correspond with these stands are available. A key part in ordering podium supplemental supplies is to ensure the wireless components will not have competing frequencies. Otherwise, the new equipment may work poorly or not at all with current equipment. Update and enhance your presentation abilities when using lectern accessories with your sound-enabled pulpits! So, what are you waiting for? Get yours today!