Table Skirts with Covers in Many Colors and Sizes
---
Trade Show Table Linens Make a Great First Impression
What are the most common displays at the front lines of any booth? Table skirts and covers turn a boring presentation into a professional show space in minutes. Most exhibitors use tables to start a discussion with attendees. This one-on-one interaction is very important since the exhibitor has mere seconds to make an impression. Decorating with table skirts and covers softens the hard lines of tables with colorful fabric and pleats. Station a friendly salesperson behind to greet people and your odds of starting a conversation are good.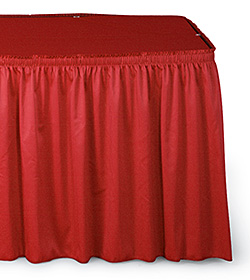 What are some of the main features these professional linens have to offer?
Our table skirts and covers come in three parts. The topper is a short covering that drapes about 1 foot below the tabletop. Plastic clips with velcro strips are then placed onto the edges. The skirting is then attached to the clips around the perimeter. Each skirt and topper are made with polyester fabric. This material stands up to repeated use and is machine washable.
You have two styles to choose from. Box pleating features evenly-spaced pleats. This provides a more orderly appearance. Shirred pleating is bunched together for a dressier look.
The skirting is available in three lengths to accommodate tables of various sizes. Please view our table skirt sizing chart to see the sizes and combinations each skirt length will cover. All lengths fall approximately 30" to the floor.
Lastly, trade shows are all about color. Shop from a wide selection of bright primary hues for a splashy presentation. Shades like beige or hunter green are more subtle. We recommend matching a color to the type of industry you're representing.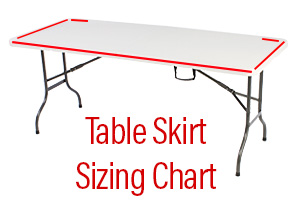 Unlike simple table covers and throws, skirts and toppers provide a more formal appearance and are suitable for many applications besides trade shows. Any business event, including job fairs, gaming conventions, or home shows are excellent uses for these affordable displays. This extra table decoration presents and enhances whatever is displayed on it. Promote your business with brochure or catalog holders. Or, offer free samples on display shelves or racks. Event planners also rely on decorative skirting. Caterers and wedding organizers like to use bright white fabric for displaying food and bar service.
Hospitality displays may not be in the limelight, but they provide an important function for any event. Perception is key. You want trade show attendees and visitors to feel welcomed and comfortable. It's all about appearances - let these affordable table coverings impress with cordial style!