Prize Drop Games Draw Crowds with Fun and Excitement
---
Enliven Any Event With Random Chance Prize Drop Boards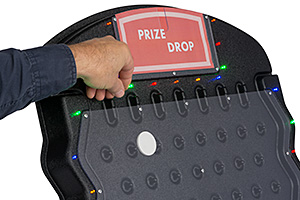 Promising thrilling action with ear-catching plink sounds, what do you call these entertaining displays? Created for the TV show The Price is Right, prize drop games debuted in 1983 and have become quite famous. Part of it has to do with their unpredictability; part of it has to do with the fun they generate! Our prize drop games emulate the ones used on TV (which are close to 10 feet tall), albeit in a smaller format. Requiring zero skill, a puck is dropped down into the maze of pins with the hope it will fall into the desired slot. Simple yet no less exciting, prize drop games can be used for many different applications. Aside from the payout angle, they are also great marketing tools for augmenting presentations. Public events like trade shows are another ideal application. Anytime a product or service needs a promotional boost, prize drop games provide the catalyst.
What makes these trade show marketing tools more effective than standard presentation equipment?
By equipping an event booth with prize drop games, you are providing a form of entertainment that draws in crowds.
Use the boards for awarding giveaways or other branded promotional items connected to your business.
The lively interplay between host and participant will leave a positive impression upon new and potential clients. They will come away associating your company with the products being promoted.
We sell these prize games in large floor standing models as well as smaller countertop versions. Steel stands support the boards at just the right angle for optimal viewing. The stand can also be folded flat for convenient portability. Countertop models can be purchased with a hard carrying case if so desired. However, both large and small styles offer the same features and play action. The boards are manufactured from rugged ABS plastic in white or black, and each come with three pucks. A maze of pins dominating the playing field directs the pucks in unpredictable fashion. Even the sides feature a zig-zag design, furthering the random outcome. Slots located at the bottom of the board designate the result. Clear plexiglass lenses cover the field to prevent any wayward pucks. Choose simple game boards or opt for the flashier styles that come with LED lights! All games arrive fully assembled and ready for action right out of the box. Thanks to their lightweight construction, these gaming displays are easy to transport and store.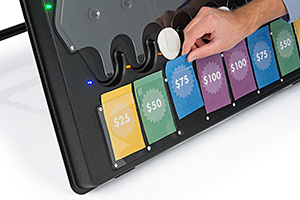 Customization is key to creating successful trade show displays. The boards provide users with a blank canvas on which to create personalized presentations and exciting awards. Encourage passersby to visit your trade show booth by offering highly-desired prizes. True, the sound of "plinking" within a board will draw in crowds; however users will want visitors to stay long enough to hear a pitch. Having an eye-catching presentation will help create an effective first impression. Consumers will appreciate the attempt at entertainment and will be more willing to listen to a sales pitch when in a good spirits. For these reasons, the gaming displays include CDs with templates to develop personalized inserts in either Word® or Illustrator®. Simply insert the disc and open the appropriate document for your fixture. Now put your creative thoughts to work, creating the most striking graphics possible! Remember, the ultimate intent is to sell a product or service as well as your company. These boards are not intended to be the focal point of a presentation, but rather as a tool or catalyst for something greater.
How else can these prize games be used to incorporate fun into everyday events? Corporate event planners, for example, can use these products to entertain employees during annual conferences or training activities. They also work within an office to improve employee morale. To award employees for attaining sales goals, provide a fun outlet with the chance to win cash or prizes. Or reward someone for a job well done at the end of a quarter or year. As you can see, there are many options for applying one of these entertaining trade show games at the retail or professional level. Anytime a "plinking" sound is heard, fun will surely follow!