Snap Frames Make Refreshing Posters Effortless
---
Medium Sized Poster Snap Frames - Choose from Different Profile Widths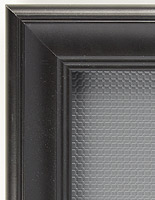 Poster snap frames with a front-load design provide users with a simple-to-use framing system that makes changing graphics incredibly easy. These wall-mounting photo holders are sold in different sizes & two color choices: silver & black. The poster snap frames use a front-loading method, enabling users to leave the framing attached to a wall. This means the holders do not need to be taken down during sign changes. How do these snap frames work? The picture holders are equipped with four separate hinges, one on each side of the molding, requiring a presenter to just flip open the edging to insert new signage. These snap frames, also known as quick-change photo framing, therefore remain on display while your posters are inserted. The signage holders even include a plastic, non-glare lens to position over the top of your advertisements. These snap frames prevent harmful elements, such as dust or fingerprints, from damaging advertising graphics.
Poster hangers are sold in a wide variety of styles & measurements to accommodate the varying needs of advertisers & decorators. These snap frames differ from most front-load designs due to the decorative molding. Typically, the edging is smooth & plain, focusing a viewer's attention on the displayed advertisements. These snap frames have a fancier design, adding a more traditional style to any presentation. This type of framing is commonly seen with wood units. While the molding is more stylish than most, these photo holders will blend in perfectly within any commercial environment. In fact, snap frames suit a variety of indoor locations including retail stores, restaurants, hotel lobbies, gyms, banks & doctors' waiting areas. Any business that needs frequent signage changes will benefit from the addition of a snap-open display.
These snap frames have a 1-5/8" wide profile. This creates a perfect border around your displayed artwork, therefore making signs more noticeable. The snap frames, while sticking out only 1" from a wall, draw a customer's eye towards the message or advertisements displayed within. Often, users desire thinner profiles because it is believed the smaller the framing, the more successful the advertising will be. This is not always the case. These snap frames, with the wider border, create a more sophisticated display to which passersby will be drawn. The photo holders add a decorative element to any presentation, without overwhelming signage.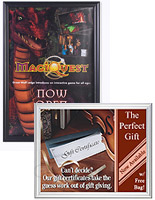 How are these snap frames installed?

No supplemental hardware is required.
For best results, a drill may be used to create the hole required for inserting wall anchors.
Please feel free to contact a customer service representative for more details.
These snap frame fixtures take only minutes to set up. The photo-holding fixtures are provided with predrilled mounting holes, screws & wall anchors to attach to practically any flat surface. The snap frames have openings that are positioned underneath the molding, therefore keeping hardware out of sight & creating a more professional-looking & blended-in presentation. There are no unsightly hooks or screws hanging around the framing. These snap frame hangers even include mounting holes to showcase graphics in either portrait or landscape forms. This means your 22 x 28 graphic can be displayed either horizontally or vertically, depending entirely on how you'd prefer to set up a presentation. Please follow the provided instructions to successful set up your framing.
These picture frames are made from aluminum & feature a matte finish. Not only will the neutral color & fancy finish make your graphics stand out, but they will also match with any location's décor. The poster frames are currently offered in two different sizes: 22"w x 28" & 20" x 30". The front-loading composition of these photo hangers make them ideally meant for use in commercial environments. Typically, picture frames are scattered throughout casinos, stores or business foyers to decorate hallways & to create a lasting first impression upon guests. A common complaint related to static advertising is the time & energy needed to update presentations. These poster frames, with the snap-open framing, cut setup time down to only a few minutes. Users will no longer need to detach the fixtures from a wall, slide out clips & remove the backing. Simply unhinge the borders & slide in your graphics!
How do these poster hangers differ from other sign displays?

The hinged framing changes the loading of graphics from the back to the front.
There is no need to remove the hangers from a wall, unless a user wants to reposition a display.
Standard sign holders have solid molding, that is all one piece, forcing a user to insert graphics from the back.
Most poster displays have annoying hooks or tabs that can break off, scratch a wall or even injure a user.
These aluminum hangers are meant for use indoors only. While they may look great outside initially, over time they will rust & become damaged. Static advertisements & posters are an effective form of marketing. Many retailers & businesses are switching to digital displays, including those to showcase commercials or videos. Printed graphics are a tried & true form of advertising. Additionally, static poster displays are budget-friendly way to add eye-catching artwork & informational messages to a presentation. For those with inadequate funds, these signage hangers are a perfect solution. The advertisement holders are also incredibly easy to use, set up & update, therefore appealing to everyone! No Internet, power source, cords, cables, media players or televisions needed!
In addition to wall-mounted poster-holding fixtures, we offer a wide variety of direct marketing tools & accessories. From TV stands & curio showcase cabinets, to brochure racks & trade show exhibits, we have everything needed to create a successful presentation. In fact, the company offers over 6,000 unique products through the website. Feel free to browse through the entire selection by visiting the main shopping page, or try our search box by searching with key words. Not quite sure what you are looking for? Please do not hesitate to contact a customer service representative. Displays2go has a fully-staffed call center of well-trained CSRs ready to answer any queries or to help customers place their orders. There is also a live chat choice, if you'd feel more comfortable speaking through the Internet as opposed to on the phone. Please note, orders much be placed online or through the telephone.
Displays2go is a #1 provider of stock display merchandise. Noticeably, our selection tops most online retailers. The photo holders alone are sold in a wide variety of styles, sizes & forms. These fancy front-load displays, for example, are sold in two colors: silver & black. Customers can also purchase the picture holders in two sizes: 22 x 28 & 20 x 30! Check out our main collection of front-load displays to find even more size options & styles! We even offer the poster hangers with a thinner profile, or edging! If a customer is looking for a more traditionally-styled sign holder, we have those as well! From aluminum to wood, we have any type of picture display desired, including those with a fancy profile. There is even a collection of cheap framing tools, made from plastic & sold a range of sizes! Want more units with a front-loading design? The swing-open collection also provides an easy-to-use way of installing new graphics. Theses particular units are sold in wood & aluminum designs & can be used both indoors & outdoors. Choose from a variety of colors, including black & silver for these 22 x 28 units.