Window Sign Systems with Ceiling to Floor Cables
---
Floor to Ceiling Suspended Cable Sign Systems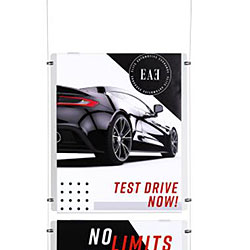 How can businesses increase customers awareness of advertising? These window sign systems are a high impact display that is highly visible to consumers. These ceiling to floor kits can be mounted virtually anywhere in an organization so businesses can decide where they will receive the most advertising awareness. These sign systems are ideal for use in a window display which may increase the instances of passer-by business and foot traffic in a store, essentially increasing sales. Visual merchandising is the perfect way to boost sales and increase business. The contemporary sign systems will draw attention from customers and make them easily aware of promotions and sales. Businesses to take advantage of lower cost advertising to increase consumer awareness of their products and promotions with relatively inexpensive displays. This sign system is great for window displays, or place this system in a waiting line or queue area so consumer's perception of waiting time is reduced as they are occupied by your eye catching display.
What is included with this sign system?
Kits include cable wire made of stainless steel with a nylon coating.
The sign system package has aluminum panel grippers with a satin silver anodized finish. These sign holders have a curved, sleek design to blend well with the contemporary nature of this display.
Included are the floor and ceiling mounts; Mounting screws and plastic anchors come along with these fixed mounts.
Lastly, acrylic panels complete the set. These crystal clear panels are precision laser cut and have a borderless design for an airy appearance.
These window signs come with all of the necessary hardware to install the kit from ceiling to floor. There are many size options and configurations to choose from in this online catalog. The panels range in size and number in this pre-designed sign system to meet all advertising needs. Purchasers can also combine multiple kits or even add accessories from the cable hanging accessories category in this online catalog. This suspended sign system is ideal for use in a storefront window display. Retailers who have highly visible storefronts, such as real estate agencies or law firms, can benefit from these displays. This sign system has clear panels so graphics can be inserted back to back making them visible to those outside the window as well as customers inside of a store. This sign system, also known as cable hanging visual merchandising kit, is relatively easy to install.
What are the benefits of a hanging window cable sign system?
There are many benefits to visual merchandising tools for businesses such as increased traffic and sales. Retailers can use cable hanging kits for promotions or new sales while restaurant could use them for daily specials or upcoming entertainment.
Proper visual merchandising is more likely to draw in new customers who will want to return due to an easy shopping experience.
This sign system is stylish while providing practical and affordable signage options.
A major benefit of these kits is that purchasers can buy only what they need with the wide array of size options and differing configurations.
This cable hanging display sign system comes with a top loading fold-over acrylic or digital panel for quick and easy switching of graphics, or is available in a digital version as well. This display takes up little space and can replace bulky displays when space is an issue. This visual merchandising tool is ideal for window displays but can also be installed in front of a wall or even as a divider in the middle of a store. The matrixes are ideal visual merchandising tools because of the high number of slots to place advertisements. Digital window signage offers an infinite array of possibilties as well. Buyers can choose as many or as few panels as they desire. The versatility of these systems is what makes them so convenient and easy to purchase. The installation from ceiling to floor is simple and allows buyers to choose the placement of this display and are designed to be ready to install, allowing businesses to advertise with ease. The possibilities are endless. Retailers can utilize them to display new inventory and sales, restaurants can showcase meal deals and upcoming entertainment, real estate agencies can display current homes for sale, art galleries can showcase artwork, and much more!
Businesses can't go wrong with a cable hanging display from this online catalog. This contemporary display can be highly visible and is a great distraction for customers waiting in line. The kit is relatively cheap and will allow businesses to advertise with ease.This kit has all of the necessary hardware included to install from ceiling to floor. Shipping is fast when products are in stock. These systems are ready to be installed and are the perfect visual merchandising tool for any business! Storefront widows no longer need to look barren with this modern, eye catching hanging poster kit! Businesses can keep customers up to date on deals. This display is a great way for stores to convey information to customers. When placed in a window display in a busy shopping district, users can effectively draw in business and increase the frequency of customers coming into a store. Businesses can change posters as often as needed to provide new exciting deals to customers and increase advertising awareness.
These displays are sold as part of the cable display systems category. This category has a large selection of wire suspended sign options. In addition to these modern store advertising fixtures there are many traditional displays sold in this online catalog as well. There is also a huge selection of signage accessories in the sign hardware category! These products are all at affordable prices and are designed to be compatible in order to create unique displays! In addition to supplies for suspended signs, this site has thousands of in stock POP displays to choose from. Browse this online catalog to find all advertising display needs!