Cable Hanging System for Window Displays
---
Floor-to-Ceiling Cable Hanging Systems - 22" x 28" Acrylic Panels
What makes this cable hanging system unique? These kits contain hardware needed to mount stainless steel braided wires from the floor all the way up to the ceiling. This cable hanging system has mounting fixtures with a sleek and modern design and a satin silver finish. The custom configurations offered on this online catalog provide the consumer with pre-designed kits and takes the guesswork out of planning a marketing display. This cable hanging system comes with acrylic panels that hold large posters. Users can insert graphics that are 18"w x 24"h or 22"w by 28"h. This marketing display, cable hanging system is sure to attract attention from customers!
Where can this cable hanging system be installed?
The hardware included in this kit allows customers to install this display from the floor to the ceiling.
This cable hanging system can be placed virtually everywhere in an office, retail store, and many more businesses.
The floor to ceiling design is ideal for use in front of a wall, in a window display, in the middle of a store, as a divider, or whichever place the consumer desires.
Once the stainless steel braided wire is installed, the acrylic panels have a simple mounting design and can be installed in minutes!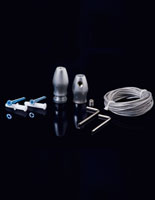 This cable hanging system, also known as ceiling-to-floor panel holders, includes 16ft length wire to span even the tallest ceilings. This display holds the largest size acrylic panels to demand attention. This cable hanging system spans from the floor to the ceiling. The satin silver finished hardware is easy to install and clamps onto the panels with set screws. Customers only need to supply marketing materials once this cable hanging system is set up! The stainless steel braided wire has a nylon coating to avoid frayed ends and sharpness. This cable hanging system is perfect for retailers or even galleries who want to showcase art and pictures. This product does not take up a lot of space due to the slim design. This innovative cable hanging system comes with crystal clear acrylic panels that do not disrupt the quality of the graphics they hold.
Why purchase a cable hanging system and other suspended marketing displays from this online catalog?
These kits offer a variety of options for suspended displays. Customers can purchase a product that suits their marketing needs.
This company has been a quality suppler of marketing display products since 1974.
Products ship fast from the warehouse!
In addition to the cable hanging system, there are thousands of in stock POP displays to satisfy all of your marketing needs in one online catalog!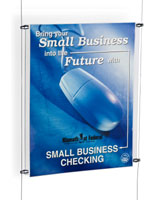 This display is predesigned to include all the necessary components to create a complete matrix.This easy to install modern display comes with all of the needed hardware for ceiling to floor mounting. Graphics will get attention from the consumer with this advertising tool. The stainless steel braided wire and satin silver finished panel mounts are sleek and stylish. Customers can find many configuration options in this online catalog and choose the one that best suits the needs of the space. This visual merchandising tool can be used for a variety of things such as showcasing new promotions and sales, advertising specials, displaying artwork, and much more! Users are not confined to wall only displays with this floor to ceiling mount kit. These systems can be installed in a window display which is a premier marketing tool for bringing customers into a store. These kits are unique because they hold such large posters so visibility of the marketing materials is at its highest! This suspended panel matrix is affordable and ships fast when in stock!
This floor-to-ceiling wire suspended kit is ready to ship!The modern looking hardware makes it easy to install. Users can visualize endless possibilities for marketing materials and promotional configurations when advertising with these signage systems. This display is ideal for creating eye catching advertisements in a variety of different establishments! Marketing materials can be easily switched out when needed with the top insert design of the acrylic fold-over panel. This wire suspended kit is equipped with stainless steel wire to securely hold signs in place. With such a large assortment of wire suspended signage, there is an option for every display need! This display is installed from the floor to the ceiling and holds 18"w x 24"h and 22"w x28"h panels for a hard to miss display. In addition, this online catalog has thousands of POP display products in stock now!
This display is sold as part of the sign system category. This category has a large selection of wire suspended sign options. There is also a huge selection of signage accessories in the sign hardware category! These products are all at affordable prices and are designed to be compatible in order to create unique displays! In addition to supplies for suspended signs, this site has 1000s of in stock POP displays to choose from. Browse this online catalog to find all advertising display needs!