Hanging Display System With Ceiling to Floor Cables and Acrylic Panels
---
Floor-to-Ceiling Hanging Display Systems w/ Cables, Panels, & Double-Sided Grippers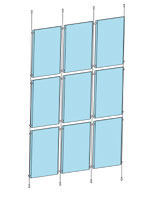 This hanging display system holds large advertisements in a top-loading acrylic panel. Many business owners want to showcase easy to see signage so customers can easily see advertisements and special promotions. When searching for visual merchandising tools, a hanging display system is a popular option. This kit is contemporary and sleek for a modern twist on traditional marketing displays. What is a hanging display system? This is a kit which includes the necessary hardware to install from floor to ceiling. The hanging display system provides acrylic panels that suspend from cable wires to create unique yet exceptionally practical signage. The panel has a top insert-design to switch out graphics easily making this product versatile. This hanging display system has hardware with a satin silver finish that both blends in and stands out in many environments. Nylon coated cable wires are also included and they securely hold signage in place. Many businesses are on a strict budget and these kits are affordable and stylish. This visual merchandising kit, hanging display system is ideal for advertising specials and promotions. These displays are perfect for storefront windows! This hanging display system, also known as a cable suspended sign kit, helps provide high impact advertisements.
Why advertise with a hanging display system?
These kits include all of the necessary hardware to mount from floor to ceiling so set-up is relatively easy.
This hanging display system includes large acrylic panels to provide larger advertisements.
This kit is ideal for mounting in a window which may increase the instances of passer-by customers.
This hanging display system is the perfect way to advertise specials and promotions and increase sales!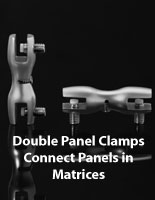 These kits are very practical for businesses because they accomplish the intent of providing visual merchandising at a great price. This hanging display system that mounts from the ceiling to the floor is not restricted to one location in a store. This signage can be mounted in a storefront window, in front of a wall, or even in the middle of the store. This hanging display system provides a large range of options with the different sized panels and various configurations. This kit can be installed where needed in a business to provide high visibility of visual merchandising. This hanging display system is great for storefront windows to increase store traffic and sales. These products are slim and provide an airy appearance with the clear acrylic frames and 1.5mm thick cables. This hanging display system can be combined with other kits to make a unique matrix of wire suspended advertisements.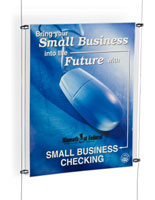 Who can benefit from visual merchandising systems?
Retailers, clothing boutiques, restaurants, real estate offices, and many more businesses can reap the benefits of visual merchandising with a hanging display system.
Proper visual merchandising is more likely to draw in new customers who will want to return due to an easy shopping experience.
This hanging display system is ideally utilized to advertise to customers the "go-to" items on sale.
Sign kits such as these are great tools to increase traffic and sales in a business.
When shopping around for visual merchandising tools, businesses need to look no further. This kit is easy on the budget and does not sacrifice style or quality. This selection provides acrylic panels that hold either 18"w x 24"h or 22"w x 28"h posters. This cable suspended kit is meant for larger marketing materials to really grab the attention of customers. When space is not a factor, this eye catching product is ideal! The hardware is designed with a curved and sleek appearance to fit in with contemporary environments. This suspended sign holder with the ceiling to floor fixed mounts supply all the necessary pieces to install a fully functioning cable kit. Printing new marketing materials can be costly so this visual merchandising product will not break the budget! Businesses can utilize this product to creatively present merchandise in a retail environment.These pre-designed kits are in stock now!
These kits complement a store front window perfectly. Posters are a perfect way to portray visual merchandising information to customers. These cable suspended sign matrices are modern and can draw attention and bring in new business with their visual appeal. This package has it all! The cable wire, panel grippers, acrylic panels, floor mounts, and ceiling mounts are all included in this kit. The included acrylic panels are crystal clear and do not have a border as to not interfere with the advertisements. These systems are innovative and the graphics can be updated at any time. Business owners will find the ease of use to be convenient. This kit is great for larger posters. There are many size options for businesses to choose the kit that suits the sizing needs of visual merchandising. These displays are great for retail stores and service oriented businesses alike.
This kit is sold as part of the sign systems category. This category has a large selection of wire suspended sign options. Buyers can find more window display options in this online catalog! In addition to these modern store advertising fixtures there are many traditional displays sold in this online catalog as well. These products are all at affordable prices and are designed to be compatible in order to create unique displays! In addition to supplies for suspended signs, this site has tons of in stock POP displays to choose from. Browse this online catalog to find all advertising display needs!