Cable Suspension System with Acrylic Panels and Ceiling to Floor Kit
We're sorry, but no items matched your search query.
---
Cable Suspension System Includes Acrylic Panels & Mounting Kit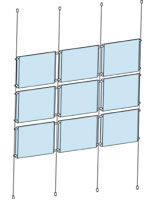 How can businesses utilize this cable suspension system? This kit is designed to be ready to install and looks great in many environments. This cable suspension system is ideal for storefront windows to attract customers passing by! Businesses can utilize this signage for promoting new products, displaying sales, and much more. This marketing signage, cable suspension system is the perfect visual merchandising tool for businesses in need of contemporary signage! Advertisers can utilize as many signs as needed with the different configuration options available that hold 11"w x 17"h or 17"w x 11"h panels. This cable suspension system makes designing a window display simple with the predesigned matrices. These kits are also sold with different sized acrylic panels in this online catalog so users can create their own unique displays.
What makes this cable suspension system so popular?
These kits come with all of the needed supplies to create a visual merchandising display.
This cable suspension system comes with custom designed satin silver anodized hardware for a contemporary and elegant appearance.
This signage is ideal for a window displays which allows users to draw in passerby customers and create more foot traffic in any establishment.
This cable suspension system holds 11"w x 17"h or 17"w x 11"h acrylic panels meaning users can easily print out signs on any regular printer!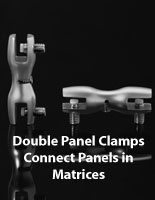 The acrylic panels that are included with this kit can be mounted at the needed height by the user. This cable suspension system, also known as wire hanging signage, can be utilized to display promotions and sales. This signage display fits perfectly in any window display with the versatile mounting method and can attract attention of passerby customers to increase traffic in any establishment. This cable suspension system utilizes stainless steel wire to securely hold acrylic panels in place. This display utilizes the fold-over acrylic frames to allow for easy and fast switching out of graphics. This cable suspension system creates contemporary signage and the satin silver finished panel mounts add an elegant appearance to the display. This signage can be mounted virtually everywhere with the fixed floor to ceiling mounts.
How are these cable suspension systems installed?
This kit includes fixed ceiling and floor mounts that can be installed virtually everywhere in an establishment.
This cable suspension system has panel mounts that utilize set screws that are simply tightened with an included allen key.
These signage kits are equipped with top-insert acrylic panels so signs can be switched out quickly and easily!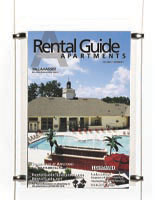 This display has a sleek and stylish design and does not take up a lot of space in a store. Purchasers can get rid of bulky advertising signage and replace it with these systems. This visual merchandising tool is perfect for storefront window placement in businesses to attract customers passing by. Wire hanging signage is growing in popularity due to the contemporary look that works well in many environments. This kit makes it simple to increase sales.This modern signage is an easy way for retailers to create high impact advertisements in a storefront window with a hassle free design. Visual merchandising is vital to the success of many businesses and can be quite expensive but these displays are a simple tool to utilize. These kits include floor and ceiling mounts, panel grippers, nylon coated stainless steel wires, and acrylic frames.
These kits can be used in a wide variety of environments from retail stores to real estate offices and also restaurants. This ready to install system is ideal for window displays. This system with acrylic panels includes all of the needed hardware for ceiling to floor mounting. To maximize the benefits of this display, purchasers can place signs back-to-back in the acrylic panels for a double sided system. This user-friendly and modern display can be mounted in a window, in front of a wall, or even as a divider in the middle of a store. Users can purchase an array of pre-designed kits to create a unique display that holds different sized graphics. Purchasers can utilize the acrylic panels to hold as many advertisements as necessary. The sign panels that are included are made of crystal clear acrylic and have a borderless frame design as to not interfere with the inserted graphics. The 1.5mm thick cable wires and clear sign frames create an airy ambiance to the system that goes well with the contemporary appearance.
This display is sold as part of the sign systems category. This category has a large selection of wire suspended sign options. This ready to install kit is ideal for window displays making it perfect for retail businesses. For more signage needs check out the window displays category! These products are designed to be compatible in order to create unique displays! In addition to supplies for suspended signs, this site has lots of in stock POP displays to choose from. Browse this online catalog to find all advertising display needs!