Wall Display Systems with Acrylic Panels
---
Wall-to-Wall Multi-Panel Display Systems For Hanging Poster Frames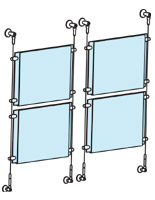 Why buy wall display systems from this online retailer versus competitors? This kit includes everything needed to mount once received. This online catalog has many different sized matrices so purchasers can mix and match these wall display systems. Quality is a priority so buyers can be assured they are receiving a great product. These wall display systems, also known as hanging signage, are perfect for storefront windows to grab the attention of passerby customers and increase traffic in a store. Visual merchandising is proven to increase sales and this signage kit is a simple way to advertise. These wall display systems come with all of the necessary hardware to install. Purchasers just need to supply graphics and advertisements to insert into the acrylic frames in order to complete this marketing sign!
Where can these wall display systems be installed?
The satin silver anodized aluminum mounting hardware can be installed on virtually any wall.
Many businesses have walls in storefront window areas and this is a great location for wall display systems.
This signage kit takes up little space with the 1/8" thick acrylic frames making for a thin profile that will fit in any space.
These wall display systems can be combined with different sizes and configurations of this signage and installed side by side for a unique display.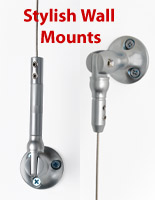 This signage is visually appealing and provides a modern aesthetic that will last for years to come. These suspended sign kits, wall display systems are a hassle free solution to business advertising signage at a relatively low cost. These kits are practical due to the fact that its one lasting display that is constantly changeable. These wall display systems are versatile and can be used in a wide variety of environments. Businesses that can utilize this signage include but are not limited to retailers, restaurants, hotels, real estate brokers, colleges/universities, and art galleries. These sleek wall display systems blend into many environments whether they are modern or classic. This signage is user friendly with the top-insert acrylic panels which allow users to simply pull out the old graphic and insert a completely different one.
What is included with this signage kit?
These wall display systems include laser-cut crystal clear acrylic frames with a simple top-insert design. Graphics can be switched out quickly to meet business advertising needs.
This cable suspended signage has satin silver finished panel grippers to securely hold the acrylic frames in place while keeping with the stylish appearance of the kit.
These wall display systems come with nylon coated stainless steel braided cable. This wire is 1.5mm thick and takes up little space but has the strength to provide lasting signage.
The wall mounting hardware is simple to use and comes with the needed hardware to install.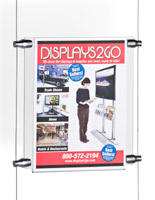 This signage is made from quality materials and customers can be assured they are receiving a sign that will last. This online catalog also sells a wide variety of cable hanging accessories so if purchasers ever wanted to add to a kit they could find all the needed supplies in one spot! Often times, creating unique signage in a business can be costly and time consuming. These displays are simple and businesses can make the signage unique with graphics tailored to business needs. The stylish mounting hardware and panel grippers are custom designed and provide an elegant appearance with the satin silver finish.
Businesses can highly benefit from visual merchandising such as this suspended signage. Customers will be drawn to this eye-catching sign. The different configuration options sold here allow purchasers to decide how large or how small to make the advertising signage in a business. It is simple to create a unique kit when combining signage systems with different sized acrylic panels side by side. This sign kit is functional and stylish which makes it ideal for many businesses! These signage kits come in many different sizes and configurations. These signs look great when installed in storefront windows to grab the attention of passerby customers and increase traffic in a store. This ready to install sign is perfect for businesses in need of marketing signage. The included cable wire has enough length to make this display large and transform bare walls to become the focal point of any store.
This display is sold as part of the hanging systems category. This category has a large selection of wire suspended signage options. There is a huge selection of window display products also sold here! These products are sold at wholesale prices and are designed to be compatible in order to create unique displays! In addition to supplies for suspended signs, this site has thousands of in stock POP displays to choose from. Browse this online catalog to find all advertising display needs!