Wall Mount Sign for Businesses
---
11" x 17" Muli-Paneled Wall-to-Wall Mounted Signs for Window Displays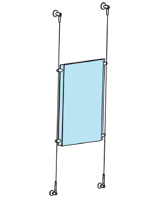 Why buy this wall mount sign from this online retailer versus a competitor?The hardware that is included is made out of aluminum that is both as durable and less expensive than steel. In addition to this wall mount sign, this online catalog sells cable hanging accessories that are compatible with the pre-designed configurations so purchasers can add to the display at any time. This kit is relatively cheap so business signage is a snap. This wall mount sign, also known as cable display kits, include acrylic panels that make switching out of graphics quick and simple. These kits are the solution to visually appealing displays without the hassle. This wall mount sign is a convenient way for businesses to get rid of outdated, bulky advertising displays.
What benefits will businesses see upon using this wall mount sign?
Visual merchandising tools are said to increase sales and traffic within an institution and these kits are a convenient way to do just that.
Often times, marketing budgets can be tight and this wall mount sign can save money while providing eye-catching advertising.
This display includes acrylic frames with a top-insert design so businesses can use it as a constantly changing sign that is sure to attract new business.
This wall mount sign is advantageous because of the versatility. This kit is sleek and modern and fits well in nearly every environment!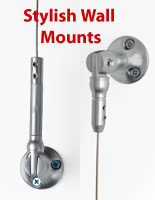 Purchasers can combine different sets to create a unique configuration that suits space and marketing needs. This wall mount sign is sleek and has an airy appearance. The clear acrylic panels in combination with the wire and satin silver hardware create the most contemporary solution to business signage. This cable hanging display, wall mount sign includes custom designed satin silver finished hardware for an elegant appearance. These display kits can be used in a wide array of environments including restaurants, retailers, hotels, real estate offices, university buildings, and many more! This wall mount sign can be installed on virtually any interior wall. Customers are sure to notice the advertisements contained in this display system. This wall mount sign is designed with businesses in mind to be utilized as a convenient and aesthetically appealing advertising tool.
What is included with this signage kit?
This wall mount sign includes crystal clear acrylic panels which makes it simple to switch out graphics when needed.
This display system also comes with satin silver anodized aluminum panel grippers to securely hold the acrylic frames in place.
The mounting hardware used to install onto a vertical surface also has a satin silver finish to blend into any environment.
Lastly, this wall mount sign includes stainless steel cable wire that has a nylon coating so it does not fray upon cutting it.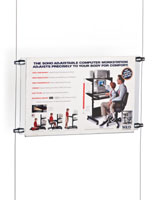 This kit includes laser cut acrylic panels to add to the sleek appearance of this display. This display is used to suspend signage in a wide array of businesses and is quickly gaining popularity due to the contemporary design. Cable suspended signs take up little space but still grab the attention of the consumer. This suspended signage holds posters that are 11"w x 17"h or 17"w x 11"h. This makes it convenient for businesses because most printers can print graphics this size! This display comes with an ample amount of cable wire that can be cut to size.
Business no longer need to fret about hiring expensive designers to create custom advertising signage. This kit includes everything needed to install an eye-catching display. This cost effective signage is contemporary yet timeless so the investment will be worth it. This kit is great for business interiors or even window displays that utilize a wall! The easy to use acrylic panels are borderless so they do not detract from the graphics inserted. Purchasers can combine pre-designed configurations to create unique, modern displays. These signage kits are ideal for businesses. This display provides a convenient way to get rid of outdated advertising and includes all of the necessary hardware to install. This signage can provide a fresh new look to bare walls. This display provides a simple way to change out graphics, pictures, promotional material and more with the foldover acrylic panels.
This display is sold as part of the hanging systems category. This category has a large selection of wire suspended signage options. There is a huge selection of window display products also sold here! These products are sold at wholesale prices and are designed to be compatible in order to create unique displays! In addition to supplies for suspended signs, this site has thousands of in stock retail & advertising displays to choose from. Browse this online catalog to fulfill all advertising display needs!