Ceiling Hung Signage Includes Mounting Kit and Acrylic Panels
---
Ceiling Hung Signage for Multi-Panel Grids - Different Sizes Available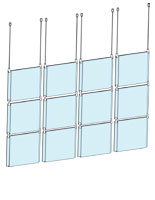 What is included with this ceiling hung signage? These kits come with everything needed to install this system! This ceiling hung signage includes aluminum mounts with a satin silver finish to match the airy and modern appearance of the overall display. This overhead display comes with nylon coated stainless steel cable with ample length to span even the largest ceiling. The wire can also be cut to size as it is designed not to fray! This ceiling hung signage is also equipped with crystal clear acrylic panels. These frames have a top-insert design making switching of graphics fast and simple. This ceiling hung signage comes with panel grippers and dual connectors for matrices. Purchasers simply install this system and provide graphics to complete this contemporary advertising display!
What can business display with these kits?
The foldover acrylic panels included in this ceiling hung signage allows users to insert any desired graphics.
This display is perfect for advertisements and marketing materials.
This ceiling hung signage can be installed in a window display making it ideal for new product graphics to attract passerby customers.
The panels come in many different sizes so user can display large posters or smaller graphics.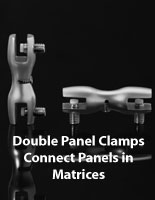 This ceiling hung signage, also known as a cable system, includes satin silver finished hardware for a stylish appearance that fits into any environment. This system is modern but looks great with classic interior design as well! This suspended kit, ceiling hung signage can be used as a double sided display when graphics are inserted back to back in the acrylic frames. This overhead sign can be used as a divider in a store since the advertisements can be seen from both sides. This ceiling hung signage is ideal for storefront windows to create custom signage that grabs the attention of customers walking by. It can be costly to create a custom designed storefront window display but this kit is relatively affordable and highly visible! This ceiling hung signage is modern and provides an eye catching display! This display is convenient and hassle free.
How can businesses benefit from this ceiling hung signage?
This display is the ideal visual merchandising tool and can help businesses increase sales.
This ceiling hung signage is a comparatively affordable way to create custom advertisements so businesses can save money.
This overhead signage saves purchaser's time with the simple acrylic frames that provide quick switching of graphics.
This ceiling hung signage comes with all of the necessary hardware to install on virtually any ceiling so businesses have the option of mounting everywhere in a store.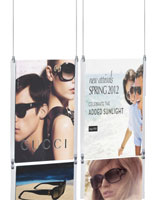 Businesses can utilize this kit for a dual sided display which makes the most out available space. This suspended sign is the best solution to contemporary signs. This overhead advertising will grab the attention of customers. Many businesses can utilize these signs such as retailers, hotels, colleges, restaurants, art galleries, and many more! The acrylic panels come in different sizes, many of which allow businesses to print ads off of a standard printer. This high impact system is hassle free and the return far outweighs the relatively affordable cost. These signs have endless possibilities for business advertising and cab be used as ever changing displays.
This kit provides the most convenient way for businesses to get rid of bulky, outdates visual merchandising tools. This system includes all of the necessary hardware to install right away. There are many pre-designed configurations sold in this online catalog and purchasers can also combine different systems to create a unique kit. This contemporary signage suits many environments and takes up little space. The satin silver panel grippers firmly hold the acrylic frames in place. The panels have a borderless design so they do not detract from the graphics. This sign system is modern and fun! These displays will attract attention from the customers. This kit has all necessary hardware included to install this system. This display comes with top insert acrylic panels making it easy to switch out graphics. These kits with a stylish appearance are ideal for storefront windows.
This display is sold as part of the shop window displays category. This category has a large selection of wire suspended sign options. For more signage needs check out the window displays category! These products are designed to be compatible in order to create unique displays! In addition to supplies for suspended signs, this site has thousands of in stock merchandising solutions to choose from. Browse this online catalog to find all advertising display needs!