Back-Lit Signs Have Bright LED Illumination
We're sorry, but no items matched your search query.
---
Wall Mounted Back Lit Poster Frames with Cable System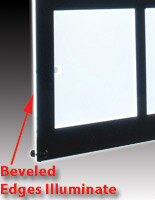 These back-lit signs provide businesses anyplace with a unique way to post signage! No longer is an institution limited to displaying posters in a generic poster holder, bolted to the wall! The introduction of these back-lit signs now allows advertisers in a variety of industries to exhibit graphics in a way which is both easy to see and stylish! Retailers, restaurants and other service businesses anyplace are welcoming the introduction of these innovative displays as a way to break away from the competition in the increasingly complex task of differentiating their institution from the competition! What makes these back-lit sign such a ground breaking addition to the world of point-of-purchase advertising? A combination of cutting-edge product features, coupled with superior engineering and quality, set this series of display apart from light boxes with florescent bulbs and neon signage!
Why buy poster matrixes from this company instead of a newer online retailer or one of the major online super stores?
In-house consumer service. A live team of expert consumer service personal is standing by, ready and eager to answer any questions on these back-lit signs. Large online wholesalers cannot offer the same level of specialized consumer service offered here.
Guaranteed Quality. These back-lit signs are sourced from vendors dealt with directly by this company's merchandising and purchasing departments. What does this mean for shoppers? The fact vendors are selected by personnel within this company ensures they are held to the highest quality standards for back-lit signs.
Experience. Displays2go was founded in 1974. Therefore, businesses shopping for back-lit signs on this website are leveraging the company's more than three decades of experience in developing, fabricating and sourcing premium POS displays.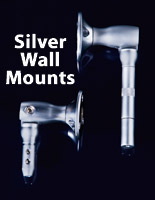 The specific features setting these signage grids apart from other light boxes are numerous. First, a detailed explanation of the acrylic signs included with these back-lit poster systems is provided. Each graphics holder has a two-panel design. Both the backer and the overlay of these back-lit signs are manufactured from acrylic. The backer is 1/4" thick, while the overlay is 1/8" thick. Decorative black hardware fixes the panels together. LED lighting components are embedded in the backer, so each print has bright backlighting. The edges of the backer are beveled, which results in their illumination when the unit is plugged in. However, the black border on the acrylic overlay deflects the lighting to create a soft glowing effect. The lighting then reflects softly off the wall, as the panels are approximately 2" off the wall's surface.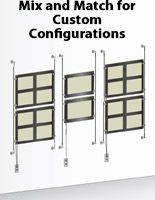 Another distinguishing feature of these panels is the unique cable system, which suspends each panel just off the surface of a wall. Each wall mount and cable clamp has an aluminum construction with a satin silver finish. The silver finish of each cable system fixture contrasts with the black overlay in a manner, which enhances the contemporary design of the unit. Each cable is fabricated from steel wire with a nylon coating. The lengths of wire are 16' long, so users have great flexibility in how they configure the unit. A curved design gives the clamps and wall mounts a very modern style, which compliments the futuristic-looking panels.
Why is advertising with an illuminated sign grid worth the additional cost when compared to a non-illuminated signage system?
The bright backlighting helps a business' graphics stand out from posters displayed by the competition.
Businesses can exhibit multiple graphics in these signage systems for a cohesive display, unlike when light boxes with bulky aluminum framing are mounted side-by-side.
The introduction of these window displays to the storefront of an institution will gain new attention from consumers that routinely drive or walk by the business.
A unique design and carefully engineered cable system enables businesses to mount these wall-to-wall signage grids in places other light boxes may not fit.
Any place consumers go when shopping, they are bombarded by advertisements for a special product or service. The question business owners must ask themselves is, "How can I bring my point-of-purchase advertising to the next level in a cost effective way?" The answer to that question is by mounting these poster systems in a storefront window or around the showroom floor. Additionally, this website has a huge selection of POS advertising fixtures ready to ship for use in conjunction with these sign holder grids! Restaurants and retailers searching for light boxes have found the ideal display retailer in Displays2go!