Digital Photo Frames Advertise Products and Services
---
Digital Photo Frames - Display Pictures and Play Music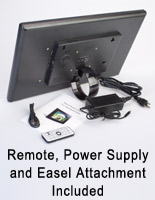 Why are digital photo frames becoming increasingly popular in homes and businesses alike? The reasons are numerous, but a couple primary causes can definitely be identified here. First, the black profile digital picture frame for advertising provides significant convenience for users when compared with a traditional picture holder. Never again will an individual be required to print hardcopy pictures once this LCD screen is implemented for showing graphics! The professional digital photo frames, like flat screen TV displays, save time because new advertisements or pictures can be loaded almost instantly. Furthermore, the fact that new graphics no longer need to be printed saves money, in addition to time. The customizable black profile digital photo frame is rapidly being adopted by businesses in a variety of industries because playing dynamic content is far more effective at capturing consumer attention than a static hardcopy print displayed in a traditional poster stand.
What variations are there among the different professional-grade digital photo frames for sale in this category of products?
15 Inch and 19 inch screen sizes are both offered for use on a counter, table or wall.
Black profile digital photo frames with glossy and matte finishes are available for use in different settings.
15 inch screens have a 4:3 aspect ratio, while 19 inch screens have a 16:9 aspect ratio.
Wide screen formats are offered as a unique alterative to standard digital photo picture frame units.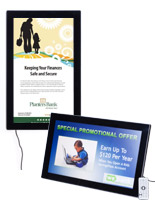 This particular selection of electronic signage includes all the bells and whistles users want and need in their advertising display or home media equipment. In addition to playing a slide show of JPEG format images, these large electronic photo frames also play video content and MP3 music files. The sound system is designed-in, so there are no additional speakers to connect. Electronic picture frames that play music in addition to image content are much more effective than electronic signage without this feature. The music will subtly draw the attention of passersby to the unit, and then the visual content will entice them to purchase your products or services. The electronic signage, electronic picture frame for business advertising also makes a more effective home display due to the music playing capability as well. Friends and relatives will experience an increased emotional response when watching a slide show of loved-ones with sentimental music playing in the background.
The electronic picture frame selection found on this page includes signs engineered for both domestic and professional use, since the benefits of using an electronic picture holder are numerous for both types of users. The edges, or profile, of the units are really the only trait that differentiates the displays best suited for home use from the signage engineered for advertising. Functionally speaking, both digital album products have the same features. Businesses will often choose the LCD screen with a glossy black border due to the innovative style it portrays. While many customers purchasing a large digital picture frame for home use will buy a unit with a matte profile and interior white accent border.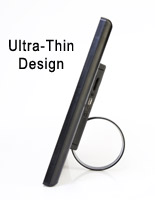 Both the 15 and 19 inch LCD screen display come with a remote to control which content is played, as well as various other features. Using the remote, users can change the music being played or the order MP3 files are played in. Slide show options include various transition effects and slide exposure times. Additionally, all the usual brightness, contrast, saturation and power options can be controlled with the remote as well. There are no controls on the face of any of these digital photo picture frame units, which will deter non-authorized users from carelessly pressing a button that may interrupt the playing of content. On the back of the unit, there are controls so users can change settings without the remote if necessary. The 15 and 19 inch digital photo picture frame screens can be positioned in landscape format only on a counter. However, each screen does wall mount in both horizontal and vertical orientation.
Where might one see this large digital photo picture frame?
In a home, showing images taken on the family camera.
This large digital picture frame is commonly seen in restaurants promoting new menu items or the drink selection.
Retailers can effectively position these electronic advertising displays on checkout counters.
Banks will list rates on financial products using this digital photo picture frame.
Other service businesses adopt these electronic signs to get the attention of employees in the work place, and post notifications.
The three memory storage options available on this unit meet the need of a variety of businesses advertising in all type of environments. Many users, such as retailers, prefer the 2GB internal memory because it eliminates the time and effort necessary in locating a USB drive to use with the unit. Additionally, when the internal memory is used, it eliminates the risk of theft of the USB drive. Many establishments using these LCD screens for advertising in public settings also like the SD card memory option because it is barely noticeable, and does not protrude from the body of the unit. Many domestic users use the SD card option as well because they can take the card right from their camera and insert it into this picture display. The numerous display options available with this electronic photo frame leaves many businesses asking themselves why ever advertise with a traditional hardcopy print when these attention-grabbing dynamic signage solutions are available!
Displays2go has adopted a simple philosophy when it comes to selling picture holders for home and adverting use. The philosophy consists of supplying quality picture holder solutions in the sizes users want. Furthermore, each LCD screen must be effective at playing a variety of content including music, slide shows and videos. This selection of LCD screens meets all the above criteria. Not only does each unit play all types of content, but these signage solutions sell at affordable prices too! Nowhere else online can such a diverse selection of POP advertising equipment be found at wholesale prices! Whether photos are taken on a home camera or graphics are made by an artist, this online catalog offers a display perfect for showing the image! Shoppers can visit the main display category page to view all the various marketing solutions available to buy on this website!