Flat Screen Stands for Multi Monitors Display Multiple Dynamic Advertisements
---
Portable and Stationary Monitor Stands Support One to Nine Flat Screens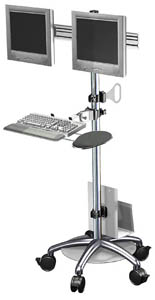 Does your advertising presentation require more than one TV panel? Shop our flat screen stands for multi monitors in a variety of bracket configurations supporting one to nine monitors. While traditional models are designed for stationary use, many include wheels which enable easy transportation between presentations. The size of your audience and the subject matter will determine how many LCDs you'll use to display branded, promotional, or informational content. Some of our HD monitor holders have a bracket on each side for advertising in two or more directions. Double-sided fixtures are great for malls and sports arenas. Other models are positioned side-by side to create a dynamic promotional layout. Digital signage is more engaging than static advertising, so the extra investment in technology is money well spent. We have the media carts to support you!
Some of our TV racks are configured to display a combination of static and digital ads. Branding possibilities are endless when it comes to electronic signage, available in fixed and adjustable styles. Most of our floor standing digital sign holders come with wheels, but some have a boltable base for prolonged stationary use.
What features should I consider when buying LCD television holders for public use?
Mounting Style: Our website-at-large features countertop, freestanding, wall, and ceiling mounted TV holders. Select freestanding television displays in large venues like trade shows, conventions centers, auditoriums, and lecture halls.
Number of Monitors: Consider how many TVs you'll need to stream content on before choosing brackets. Play different programs at the same time, or put up a static ad next to streaming video.
Placement: Malls are a great setting for streaming content from two sides to reach twice as many customers. Double sided fixtures grab traffic coming and going!
Associated Equipment: Many of our TV mounts come with shelves and trays for laptops, keyboards, and a mouse. We offer shelving for media players and cameras as well.
Travel and carry cases: Our hard shell carryalls protect expensive equipment and keep necessary parts from getting lost.
Movement and adjustability: Some mounts rotate, tilt, and pan for viewing in vertical and horizontal orientation. Other units have a fixed design, offering only a landscape view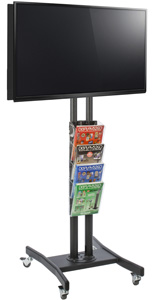 What commercial venues are mobile television displays used in? Our TV racks with travel cases for trade shows can measure as high as 120" — so they are visible from a distance in malls and big arenas. Option for adjustable heights enable the operator to tailor viewing to the size of the crowd. Car dealerships and salons often stream demos across many monitors. These technology fixtures are ideal in hospitals, offices, athletic centers, and colleges. Choose a mobile display that is easy to maneuver with wheels at the base of the stand, or create a permanent stationary presentation.
What floor standing television mount styles are featured in this collection?
Truss style is a popular display with road warriors. Mount this unit without any tools whatsoever; the techy design looks great on a showroom floor. Locking clips secure monitors in the stand. A sturdy base in steel or wood keeps heavy equipment from toppling over. The beauty of this fixture is how easy it is to break down after an event - no tools required!
Create a video wall with our stationary TV stands to display branded content in large-scale venues. The wheeled base makes it easy to reposition and transport.
Choose our fixed television holders with locking media storage for extra security. Some units feature open shelves for AV equipment. Another benefit to some of the stands without wheels is that the base can be bolted to the ground.
If you'll need shelving to house associated camera and video equipment, there are numerous options available. We provide exhibitors with racks for panel TVs in a variety of configurations. Present dynamic promotional videos, or a combination of static and dynamic advertising. Locking wheels enable the user to secure a media cart in place so it won't roll away during presentations.
Designed for double duty, these racks for panel TVs display two or more LCD screens. An upright pole made of steel is sturdy enough to hold heavy LCD equipment. Most of these stands for multi monitors are height-adjustable. Place screens side by side, or on opposite sides of the pole to capture customer twice the attention in a large sports arena, mall, or convention hall. Display digital media across multiple televisions, or create an adaptable advertising system instead of a standard fixed-mount video wall.