iPad Stands Create Interactive Retail POS and Merchandising Kiosks
Shop by Generation
---
Shop by Placement
---

---
iPad Mounts and Stands for Businesses and Retail Stores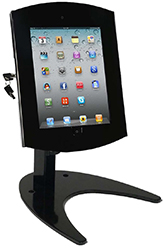 How can iPad stands benefit your business? Tablets are used in a wide variety of settings including retail stores, trade shows, and prootional events — they're revolutionary marketing tools that enable marketers to take projects and presentations on the road with ease. iPad stands are great for featuring these devices on floors, countertops, and even on walls. We offer a wide variety of displays for models from the Classic, Mini, and Air lines in addition to adjustable enclosures for Samsung and Microsoft devices. Browse our locking iPad stands that are ideal for public venues, product prootion counters, and high-traffic shopping centers. Our non-locking models are excellent for residential use in the kitchen, living room, or bedroom.
Which businesses use these device holders the most?
Retail stores use iPad stands for handling transactions at checkout counters, featuring digital catalogs, and product customization options. Many boutiues or tech stores take advantage of locking tablet holders to promote products with videos, games, or interactive content.
Hotels check guests in and out or keep track of their accommodation requests.
Restaurants & food service businesses use iPad enclosures to feature digital menus, manage seating, or keep track of customers' orders. Food trucks make great use of these to quickly check out patrons.
Trade Shows & convention centers make exhibitor-patron interaction easy, giving passersby in-depth presentations about products and services.
Car dealerships help employees by logging vehicle maintenance records and appointments or showing potential customers new model features.

These iPad holders are a great way to engage visitors and inform them about your brand. Many companies use tablet-based presentations to increase interest and drive sales. These create a POS display anywhere, any time, on the floor, a countertop, or mounted to a wall. Businesses often use the enclosures to present promotional material to customers with slideshows, videos, or engaging apps. Connecting with patrons and generating interest is a great way to reach more consumers and develop professional relationships.
Looking for more ways to use these touchscreen enclosures? Check out our article for creative ideas on how to implement tablets in your business. There's so much opportunity for innovating marketing strategies. For example, our tablet selfie stations are great for giving people a branded photograph to go home with. In public spaces, our locking device holders keep valuable displays safe from theft. Some POS kiosks include hidden screws that secure the tablet in place while other models feature keyed and Kensington-style locks. These are ideal for use in retail locations where the device will be accessible to customers. Certain touchscreen mounts can be bolted to the floor or counter for additional security.
These device enclosures are also ideal for personal use both in the home and while traveling. Many tabletop models are adjustable and rotate with ease, enabling users to go from watching a video in landscape orientation to reading an article in portrait display. Displays2go offers a large variety of displays for both commercial and residential settings, all offered with bulk pricing and fast shipping.